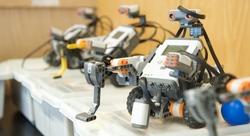 This (robotics device) is our baby, our first kid. We want it to grow every day.
New York, NY (Vocus) March 13, 2010
Borough of Manhattan Community College (BMCC) students are building robotic devices in a special workshop this semester, and plan to pit their creations against students from both 2- and 4-year colleges nationwide this spring, through a competition sponsored by the American Society for Engineering Education (ASEE).
The student-designed devices are remote controlled and shoot ping-pong balls in pre-determined trajectories. "The whole point of the workshop is to create a device that is fully autonomous—controlled by the microprocessor device," says Engineering Professor Mahmoud Ardebili, "and to appreciate the microprocessor-based applications, from those used in cars, to airplanes, appliances—in all kinds of settings."
According to the National Academy of Sciences, 40% of people earning engineering bachelor and master degrees attended community colleges, and BMCC engineering students contribute to that number by taking advantage of the school's strong transfer partnerships with CUNY 4-year colleges, Polytechnic University, New York University and others.
Professor Ardebili, whose own research focuses on turbulent fluid flows and the monitoring of carbon fiber composite materials—with the potential to make air travel safer—has a PhD in Mechanical Engineering from the CUNY Graduate Center and oversees the robotics teams. He mixes students at different skill levels, giving them a chance to help each other and take different roles.
"Project-based learning incorporates peer leader mentoring," he says. "Once you explain something, the material stays with you."
He notes that some of the students have computer programming experience, and some don't. "They work on macros—little bits of programming," he says, "that they put together into the big program. And you have to have the mechanical part, in addition to the electronic part."
"We all play off each other's attributes," says Karam Rampersaud, standing before the robot he and his team are developing. "It's very challenging, but as a team we stick together," says student Donnell Green. "Whatever you do, don't quit."
While one group of students watches, their robotic device busily follows a black-tape path on a plywood platform. As Siyun Chen puts it, "This is our baby, our first kid. We want it to grow every day. It moves in the right way – it's doing what we want."
Borough of Manhattan Community College (BMCC) enrolls over 22,000 degree-seeking students a year, from more than 155 countries. The largest community college in The City University of New York (CUNY) system, BMCC awards associates degrees in over 27 fields.
# # #