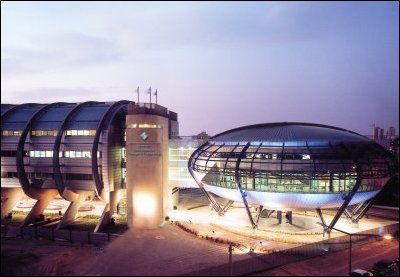 With the leadership of our new Executive Vice President, veteran fundraiser Joshua Karlin, we are creating a high profile Executive Committee in the Northeast United States to raise $12 million by 2012.
New York, NY (PRWEB) April 18, 2007
The American Friends of Sami Shamoon College of Engineering in Beer Sheva and Ashdod, Israel , has opened its first American office, at 5 West 36th Street in New York City. Douglas Stern, President of AFSSCE remarked, "With the leadership of our new Executive Vice President, veteran fundraiser Joshua Karlin, we are creating a high profile Executive Committee in the Northeast United States to raise $12 million by 2012." This will finance Shamoon's 130% planned increase in student enrollment from 3,000 to 7,000, Stern explained.
The fastest growing college in Israel, Shamoon plays a unique role in Israel's development by recruiting, training and retaining the Negev's brain trust, which helps spur the region's economic growth. Recognizing Shamoon's uncompromised academic excellence, the Council for Higher Education of Israel selected Shamoon to be the first and only college to open a second campus, in the southern port city of Ashdod.
Eighty percent of Shamoon students hail from the Negev and south Israel, fulfilling the government mandate to make higher education more accessible to people living on the periphery.
"We reach out to young adults who lack the typical opportunities," Prof. Jehuda Haddad, Shamoon College President said. "We give them a vision - that of becoming professional engineers - to make better lives for themselves, and for all who live in Israel's south. Then we give them a chance to realize that vision."
Shamoon has developed a special psycho-technic test to identify those with high scientific aptitude.
"Once they qualify, we train them to be counted amongst the finest engineers in the country," explained Haddad.
Founded in 1996 with just 95 students, Shamoon is now Israel's largest engineering college. It offers special scholarship programs for Israeli-Ethiopians, Bedouins, Israeli soldiers, single mothers and others with financial hardships. Israeli Arabs, Bedouins, and Druze comprise 15% of the student body. Shamoon has produced the first, and to date, only, female Bedouin engineer. Eleven Israeli Ethiopian engineers have graduated, the most from any Israeli college or university.
Shamoon's graduates are helping fill the extreme shortage of engineers in Israel, especially in the southern region. Approximately 77% of Shamoon graduates stay in south Israel, employed at companies such as Intel, Amdocs, El-Op, Dead Sea Works (DSW), and Bromine Compounds.
Shamoon is involved in numerous co-ventures with world industry leaders, such as research with General Motors to develop safer, "greener" automobiles. Microsoft-Israel's Forum for Young Developers and Shamoon are jointly motivating more young females to enter careers in engineering. The new Negev Monte Carlo Research Center has already begun to identify markers of Alzheimer's disease, developed a test for early cervical cancer detection, and is the nation's leader in paradigm-building for military preparation for atmospheric dispersion of radiation in terror attacks. Additionally, Shamoon is the only Israeli college or university with "green" engineering or earthquake studies.
The College's architecture embodies its philosophy of innovation and outreach. Designed by internationally acclaimed architect Haim Dotan, the Minkoff Building, known as "the spaceship", stands adjacent to Beer Sheva's oldest neighborhood, Shikun Aleph. "This juxtaposition is symbolic of Shamoon's providing a bridge from the hardships of the past to the promise of the future," commented AFSSCE Executive Vice President Karlin.
While Karlin builds the New York office for Shamoon, he continues to operate his consulting firm, Aliya Marketing and Fundraising Group, in Rhode Island where he previously raised more than $25 million as Director of Development and Endowment for the Jewish Federation of Rhode Island.
For more information, contact Annabelle Stevens, 310-435-6996 or Dahlia Greer, 310-339-1060. Visit the website of AFSSCE.
###