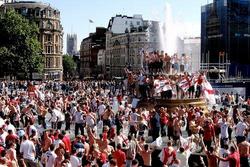 (PRWEB) June 17, 2010
If you haven't managed to score tickets to any of the games in South Africa, there are loads of places you can watch the matches and places you can go to improve your own technique right here in England.
VisitEngland have dedicated a section of enjoyengland.com to all things football, whether you're interested in a stadium tour at Wembley or Old Trafford, a chance to play your own game of 5 a side at one of the many parks around the country, or just want to find the perfect spot to take in the action on a big screen! Whichever team you support look no further than Enjoy England's World Cup 2010 guide at http://www.enjoyengland.com/football
Where to watch the FIFA World Cup
A World Cup year usually sees England come to a standstill during June and July. For fans, it is a brilliant way of increasing the party spirit and camaraderie, but where is the best place to catch the action?

Support England at these outdoor screenings around the country:

Head to the hometowns of the England footballers, and play your own game!
Gareth Barry, one of England's midfielders, is originally from Hastings and loves getting back to the area! 'No matter where I'll live in the future, Hastings will always be my home. It's obviously special to me as I was born there, and it's a great place to visit.' So we've thought of some great places for a kickabout in Hastings and other hometowns of England footballers!
Show your support for England this summer!
For further information, please contact:
Stephanie Boyle / Yolanda Copes-Stepney
Tel: 020 7578 1446 / 1447
Notes to editors:
About VisitEngland

###