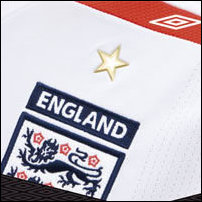 We expect this to be our top seller this year, whilst the kit is released in February, online sales will still be going strong until Christmas, the England shirt will out strip even the top clubs in the Premiership
Hampshire, UK (PRWEB) January 22, 2007
Umbro Trilogy shirt technology will be the base of the 2007/09 England football shirt.
2007-2009 England home football shirt will use Umbro's new Trilogy fabric. The name from the Trilogy fabric comes from the three stages of climate control:
1. Ventilate the body
2. Draw sweat away from the body
3. Slow down the sweating process
The new shirt will be England's home shirt until 2009 and will be worn during the qualification campaign for and at the UEFA EURO 2008 Championships in Austria and Switzerland. England will wear their new home shirt first for the international friendly match against Spain at Old Trafford on February 7th, the day after the kit's official release.
Football Shirts UK Director Ian Ebbs said "We expect this to be our top seller this year, whilst the kit is released in February, online sales will still be going strong until Christmas, the England shirt will out strip even the top clubs in the Premiership" and "The new Umbro Trilogy technology will mean an even more comfortable England shirt for the fans to wear and the national team to perform in".
The shirts design features the gold star above the national crest for England's 1966 World Cup win and from the small shots of the kit released so far is mainly white, with some red also featuring on the shirt. Umbro are keeping the full design under wraps until February 6th.
###