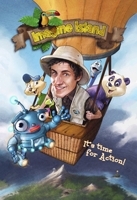 Imagine Island is all about changing lives
Provo, UT (PRWEB) July 5, 2008
Imagine Island, an educational television program aimed at giving children of the world a head-start in learning the English language, will be broadcast on cable and satellite systems throughout South, Central, and North America beginning July 5, 2008.
"Imagine Island is all about changing lives," said Susan W. Preator, CEO of Imagine Learning, Inc., one of the main producers of the program. "The television series not only will delight and entertain, but will open doors of opportunity for millions of children throughout the world," she added.
A leading provider of software for ESL (English as a Second Language) programs, the Provo, Utah (USA) based Imagine Learning has joined with BYU-TV International to produce and distribute twenty-six 30-minute episodes of the new television series. The series will be broadcast over BYU-TV International's more than 200 affiliate public television stations throughout the Americas--reaching an estimated nine million children.
Imagine Island was awarded a 2008 Bronze Telly for outstanding achievement in a television series at the 29th annual Telly Awards competition. Each year, judges of the prestigious competition evaluate more than 14,000 national and international submissions against a high standard of excellence before granting the awards.
Directed by Josh Cross and written by Dianne DeMik, Imagine Island combines research-based instruction with charming appeal through its entertaining characters, beautiful artwork, and engaging music. During its development, the program underwent thorough testing to determine the ideal balance between education and entertainment, using stimulating visual and interactive content to keep children engrossed in learning challenging English material.
Preator expressed gratitude for the assistance of BYU-TV International and many others involved in the creative process. "It is truly amazing that dreams can become realities when people with creative talents and a passion for changing lives come together," she said.
The show currently is produced in Spanish and Portuguese, and there are plans to expand into other languages. In addition to its television content, each episode directs children to additional learning opportunities on a related web site, imagineisland.com.
Imagine Island is yet another addition to Imagine Learning's mission to teach English to children of the world. Along with the new series, Imagine Learning also produces Imagine Learning English, a computer program designed to help children learn English in the classroom and in the home. Today, the computer program is used by educational systems in more than 32 states of the United States and in 5 different countries.
Imagine Island will air Saturday mornings at 5:30 am and 8:00 am. Click here to get more details on the show and for scheduling and local broadcasting information.
###