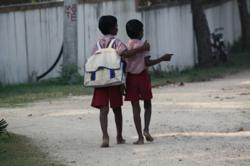 If we can train our children to be qualified for positions in multinational companies, they will become economically successful.
Provo, UT (Vocus/PRWEB) February 23, 2011
Educational software company Imagine Learning is now teaching English to children of the leprosy-affected in southern India as part of its newly announced partnership with Rising Star Outreach.
Leprosy is curable. However, fighting leprosy isn't nearly as difficult as fighting the stigma associated with the disease. Because leprosy is perceived as a curse, some communities ostracize even those who have been cured. Children of the leprosy-affected are also victims of this discrimination. Rising Star Outreach was founded in 2004 to overcome this stigma by providing social and economic opportunities for the leprosy-affected and their children.
Rising Star Outreach knows that proper education can redirect the future of these children. Imagine Learning will play a key role in enhancing their education through English language and literacy instruction.
"Having access to Imagine Learning's incredible system for learning English is a huge asset to the children we serve," said Becky Douglas, founder and president of Rising Star Outreach. "If we can train our children to be qualified for positions in multinational companies, they will become economically successful. We are thrilled to partner with Imagine Learning to help create this amazing social change in India."
English proficiency is the most important factor in obtaining a job with a multinational company. A recent study showed that graduates in India who speak English earn salaries 500 percent higher than those who do not speak English.
Although the leprosy-affected and their children face tremendous discrimination in hiring, English proficiency offers a competitive edge. Rising Star Outreach provides a safe environment for students to gain this proficiency. The organization recently completed construction on a new school at the center of the Rising Star Outreach campus.
"The school has a fantastic computer lab," said Noah Eyre, Imagine Learning area partnership manager, who assisted with the installation and training of the program. "The engaging and comprehensive English instruction of Imagine Learning English combined with the efforts of Rising Star Outreach will give these children a true chance to break out and become leaders in India."
About Imagine Learning
At Imagine Learning, we're passionate about bringing language and literacy instruction to the students who need it most. That's why we used state standards and scientifically based research to develop Imagine Learning English, an innovative software program that uses first-language support, continual assessment and differentiated instruction to meet the needs of four key student populations: English learners, struggling readers, students with disabilities and early childhood education students. Imagine Learning English gives students one-on-one instruction and scaffolded support while keeping teachers abreast of student progress through real-time reports. Visit our website at http://www.imaginelearning.com to find out how we're giving students, parents and teachers essential tools for language and literacy development.
About Rising Star Outreach
Rising Star Outreach is a non-profit organization dedicated to the eradication of leprosy and the rehabilitation of the leprosy-affected. Rising Star Outreach strives to mitigate the physical, emotional and social effects of leprosy by providing mobile medical clinics, education for children of the leprosy-affected and micro-loans for small businesses. Its mission is to help leprosy colonies become thriving, self-sufficient communities.
Today, Rising Star Outreach provides education for nearly 200 children whose parents are leprosy-affected. Children's homes on the school campus currently house 140 students and plans for additional housing are underway. The campus is being built in phases; when the project is complete, the Rising Star Outreach Marriott children's homes will have the capacity to house 460 children, and the Peery Matriculation School will be equipped to train 720 students. To make a donation or sponsor a child, please visit http://www.risingstaroutreach.org/goodtogive.
# # #