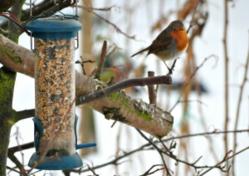 By thinking about the plants, flowers, shrubs and trees being invested in it's easy to optimise a garden for wildlife
East-Sussex (PRWEB UK) 21 January 2013
Wildlife in the UK suffers a scarcity of food each winter. Some mammals hibernate, and around 50 per cent of UK birds migrate south for the winter. Fortunately, it's easy to attract what wildlife is still roaming and active. English Woodlands, an East Sussex-based supplier of trees and plants, have released advice on encouraging winter wildlife into the gardens of their customers and the wider public.
Creating a wildlife-friendly living environment is easy with a well-planned garden. Hedgerows provide cover for ground animals, and make common sites for birds to roost and feed. Planting hedges not only serves to structure a garden and shelter from high winds, but provides a local home for the 80 per cent of UK woodland birds capable of nesting in them.
By thinking about the plants, flowers, shrubs and trees being invested in it's easy to optimise a garden for wildlife. Planting mixed native hedges, for example, provides sequential flowering and fruiting for a range of insects, birds and mammals. However beyond this, maintenance can play a large part. Refraining from the last grass cutting of the season creates a substantially improved environment during winter. Insects and invertebrates will stay above ground longer, finding the tall grass to hold in heat more effectively than that cut short. These will then attract more birds and ground animals searching for reliable food sources.
The colder months are lean, creating difficulties finding food for many animals. One reason many birds migrate is the lack of insects in the UK environment over winter. Invertebrates either die or burrow below ground for the winter, removing the primary food supply of many birds.
Growing plants with winter berries will give wildlife a reason to visit the garden. Many birds enjoy holly berries, particularly the iconic Robin. There are many small trees able to provide fruit sustaining birds during the winter such as hawthorns, blackthorns and crab apples. Leaving out fatty suet balls and oily sunflower seeds in a feeder will always attract birds. Alternatively, individuals can let some plants go to seed, rather than removing them towards the end of their season. This provides much needed nutrition for seed eaters of all kinds. For those who do dig out their borders, remember that turning over soil may reveal invertebrates to sustain the bird population.
Providing food and water benefits both birds and ground animals. For households with a frozen pond just boil a saucepan of water and hold it upon the surface until a circle has melted through, or simply pour the boiling water on. This means birds and small animals have access to water even in freezing conditions.
English Woodlands are an East Sussex-based supplier of trees, plants and planting accessories. They have spent almost a century selling their locally grown plant life to individuals and authorities around the United Kingdom. English Woodlands are proud to offer the best standards of advice and support to every one of their customers, helping them to keep their gardens healthy and bustling the entire year through.