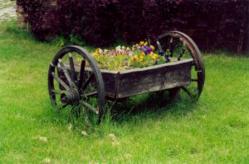 Even light water damage can ruin produce and flowers
East-Sussex, (PRWEB UK) 18 January 2013
Despite the drought measures spring required, 2012 still managed to become the second wettest year in UK history, only behind the year 2000 by a mere 6.6 mm of rainfall. Unfortunately, this achievement came with a price, as large parts of the UK suffered from heavy flooding.
Severe waterlogging occurred in parts of the countryside, with overflowing rivers leading to damaged crops. Many gardeners were challenged with seeing if their gardens could withstand heavy levels of rainfall. In light of the weather, English Woodlands are releasing their professional advice on minimising plant losses due to wet conditions in domestic gardens for the future.
Water Resistant Species
Some plants have an enhanced tolerance of water, and investing in these varieties is an excellent way for cautious gardeners to gain peace of mind. Willow trees are traditionally planted alongside steams and rivers to defend against soil erosion. There are both large and dwarf varieties and they can also be coppiced to provide colourful stems for basket making. Other trees that withstand very wet conditions are Alders, Poplars and even the common Oak.
Raised Planting
Keeping plants above ground level stops water from pooling around them, avoiding the risk of waterlogging. Trees can be planted on a small mound, ensuring that a degree of the root zone will be kept above the majority of water, while smaller flower and vegetable beds could be boxed off and raised above the rest of the garden. Even light water damage can ruin produce and flowers, so an extra few inches of height makes a large difference.
Drainage
Most plants require a soil with good drainage. Loam, sandy and chalky soils generally provide this. Clay soils can be prone to holding water and slow to drain after heavy rain. Installing a drainage system may be necessary, but adding organic matter to the soil will also improve structure and drainage in the long term.
English Woodlands are a tree nursery have been growing and selling trees, plants and shrubs across the UK for almost a century, supplying individuals and authorities with locally produced flora of the highest quality. They pride themselves on dispensing accurate advice and information to all customers, and are happy to help both new and experienced gardeners protect their investments through any season.