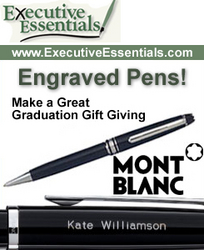 Mount Prospect, IL (PRWEB) April 3, 2009
Executive Essentials has recently added personalized engraving as an option for many of their most popular pens, including Cross pens, Waterman, and Montblanc. With graduation right around the corner, personalized engraving makes choosing the right gift for high school and college grads simple and personal. High quality writing instruments make the perfect gift for graduates heading off to college or a career in business, as it's a lifetime gift that will be useful, and fine pens are available in any price range. To sweeten the deal even more, Executive Essentials is now offering some of their most popular engravable pens at discounts of up to 35%.
Waterman has been a favorite among connoisseurs of fine writing instruments for many years. Crafted in Paris at the Saint-Herblain Centre of Excellence since 1883, Waterman blends high-end materials such as exotic woods and rich lacquers with precision craftsmanship, winning awards for technical design. Executive Essentials carries a full line of Waterman writing instruments, and is currently offering many at a discount. The Waterman Carene Fountain Pen Garnet Red is available at 30% off. The Waterman Carene is popular for its elegant silhouette and luxury detailing. The pen features silver-plated trim with an 18-carat gold rhodium-plated nib for a modern look and feel, and a wide body that's perfect for engraving.
The A.T. Cross Company was America's first manufacturer of high-end writing instruments, and has been producing luxury pens and pencils for over 158 years. Headquartered in Lincoln, Rhode Island, Cross writing instruments are a home-grown favorite of Americans who appreciate a well-made pen or pencil. Executive Essentials is proud to carry many of A.T Cross Company's most popular styles, and is happy to introduce many at a discount. The Cross ATX Pen in Celestial Blue is available at 35% off in a choice of two styles, fountain pen or rollerball. The Cross ATX pen features a textural matte finish in deep blue, with polished chrome accents, and a wide, rounded clip. Like the Waterman Carene, the Cross ATX offers a wide silhouette that's perfect for personalizing with an engraving.
Executive Essentials also offers engraving options on most Montblanc pens that feature a metal, lacquer, resin, or plastic surface, including the Montlanc Meisterstück pen, one of the most popular writing instruments of all time. Montblanc pens have been crafted in Hamburg, Germany since 1909 when the company was formed by a banker, a stationer, and an engineer. The pens have since become a favorite the world over, and that instantly recognizable Montblanc white star shines on each pen like a symbol of quality and distinguished taste. The Montblanc Meisterstück Classique pen features precious resin, an inlaid Montblanc white star, three gold plated rings with embossed logo, and a gold-plated clip with individual serial number.
Engraving options are available on most writing instruments from most makers on the Executive Essentials website, but customer service representatives are available to answer questions about specific pens and pencils, and the engraving options for each. Engraving charges range from $17 to $30, depending upon the type, style, and the number of letters of the engraving chosen, as well as the pen surface. Executive Essentials offers a 110% low-price guarantee on all the quality writing instruments they sell.
About Executive Essentials
Executive Essentials is part of the Emporium Luggage Corporation. As a family-owned business since 1947, Executive Essentials, Irv's Luggage, and its parent company, Emporium Luggage, own and operate eight retail stores in Chicago and the surrounding suburbs, in addition to two thriving Internet storefronts. Executive Essentials was founded in 1990 in Woodfield Mall, Schaumburg, Illinois, and features a full line of quality writing instruments for pen enthusiasts, as well as top shelf business accessories for everyone.
# # #