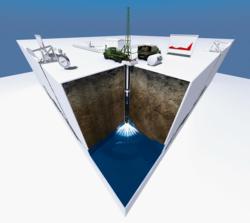 AusTex's Chairman and Executive Director, Richard Adrey said, "We are well pleased with the results that the treatment has delivered thus far, and we look forward continuing to track the results and to treating additional wells."
Houston, TX (PRWEB) June 19, 2013
On March 25, 2013, the Company treated a small well in East Tonkawa Unit (ETU) - 15-4 in Kay County, Oklahoma in the Mississippi Lime formation. The operator of the field and well, International Energy Corporation, is a Tulsa, Oklahoma based exploration and production company, and a wholly owned subsidiary of AusTex Oil Limited, publically traded on the Australian Stock Exchange under the symbol AOK.
According to the operator, the well had been producing 5-7 barrels of oil per day before the plasma pulse treatment. The well had been off line for two weeks prior to treatment and was barrel tested the day before treatment with 80 barrels of water and 0 barrels of oil per day. After treatment the initial report came in on April 1, 2013 with 133 barrels of water and 10.75 barrels of oil. On April 8 the tests showed 122.75 barrels of water and 12.75 barrels of oil. Then on April 14 the well was taken out of production in order to frack an adjacent well and when put back on and tested April 18 results were 128 barrels of water and 8.25 barrels of oil.
The Operator now reports on May 13 the well was doing 100 barrels of water and 18 barrels of oil per day and holding steady with a considerable increase in oil production. AusTex's Chairman and Executive Director, Richard Adrey said, "We are well pleased with the results that the treatment has delivered thus far, and we look forward continuing to track the results and to treating additional wells."
According to Mr. John Huemoeller II, the CEO of Novas and Propell who was present and assisting in the treatment deployment team, "We are extremely excited about treating this particular well because it was our first Mississippi Limestone. This formation covers millions of acres in northern Oklahoma running into central Kansas where many of the industry giants operate.
About:
Novas Energy USA is a wholly owned subsidiary of Propell Technologies, PROP. The public Company acquired a specific oil and gas recovery enhancement technology in the end of 2012 that has been shown to significantly improve existing well recovery and production volumes. Prior to this technology the Company focus had been in a software technology targeting retail textile sales that had been directed under former management. For more information, visit http://www.novasenergyusa.com or call 713-227-0480, Novas Energy USA, 1701 Commerce Street, Houston, Texas 77002.
SAFE HARBOR STATEMENT
This news release contains forward-looking statements within the meaning of the Safe Harbor Provisions of the Private Securities Litigation Reform Act of 1995. These forward-looking statements are often identified by the words "believe," "anticipate," "expect," "intend," "estimate," and similar expressions. All statements in this document regarding the future outlook related to Novas Energy USA and Propell are forward-looking statements, including but not limited to the initial results from the treated wells and the timing and release of future data. Such statements are based on the current expectations, beliefs, estimates and projections of management and are subject to a number of risks and uncertainties that could cause actual results to differ materially from those described in the forward-looking statements including the risk that the future data will not be as favorable as the initial results. Additional uncertainties and risks are described in our most recently filed SEC documents, such as our most recent annual report on Form 10-K and quarterly report on Form 10-Q. For a more detailed discussion of factors that affect Propell's operations, please refer to the Company's Securities and Exchange Commission filings. Copies of this filing are available through the SEC website at http://www.sec.gov. All forward-looking statements are based upon information available to us on the date hereof. Propell undertakes no obligation to update this forward-looking information.