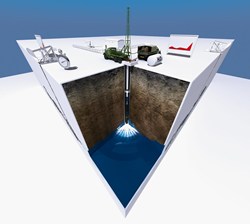 Houston, TX (PRWEB) August 14, 2013
Propell Technologies Group Inc. (OTCQB: PROP) will hold an investors' conference call this Wednesday, August 14, 2013 at 11:00 A.M. Eastern Daylight Time.
Details are as follows:
Conference Topic: Propell & Novas Energy USA's Q3 Operations
Date of Call: Wednesday - August 14, 2013
Time of Call: 5:00 PM EST
Expected Duration: 60 minutes
Toll-Free Dial-In Number: (712) 432-1500
Participant Conference ID: 769753#
About Propell
Novas Energy USA is a wholly owned subsidiary of Propell Technologies, PROP. Novas Energy USA develops and implements next generation enhanced oil recovery tools and processes in the U.S. oil services industry that has been shown to significantly improve existing well recovery and production volumes. For more information, visit http://www.novasenergyusa.com or call 713-227-0480, Novas Energy USA, 1701 Commerce Street, Houston, Texas 77002.
SAFE HARBOR STATEMENT This news release contains forward-looking statements within the meaning of the Safe Harbor Provisions of the Private Securities Litigation Reform Act of 1995. These forward-looking statements are often identified by the words "believe," "anticipate," "expect," "intend," "estimate," and similar expressions. All statements in this document regarding the future outlook related to Novas Energy USA and Propell are forward-looking statements, including but not limited to the initial results from the treated wells and the timing and release of future data. Such statements are based on the current expectations, beliefs, estimates and projections of management and are subject to a number of risks and uncertainties that could cause actual results to differ materially from those described in the forward-looking statements including the risk that the future data will not be as favorable as the initial results. Additional uncertainties and risks are described in our most recently filed SEC documents, such as our most recent annual report on Form 10-K and quarterly report on Form 10-Q. For a more detailed discussion of factors that affect Propell's operations, please refer to the Company's Securities and Exchange Commission filings. Copies of this filing are available through the SEC website at http://www.sec.gov. All forward-looking statements are based upon information available to us on the date hereof. Propell undertakes no obligation to update this forward-looking information.