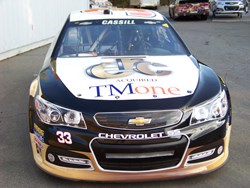 "TMone, the newest addition to the ERC Family, has been ready for another solid showing at a Superspeedway since we almost won the Daytona 500 in 2012," said Kirk Moquin, co-CEO of ERC.
Iowa City, IA (PRWEB) October 18, 2013
TMone will sponsor fellow Iowa native Landon Cassill this week for the Camping World RV Sales 500 at Talladega Superspeedway. Celebrating the recent acquisition of TMone by Jacksonville, Fla.-based ERC, Cassill will take to the high banks of Talladega in the specially designed No. 33 ERC Acquired TMone Chevrolet SS for Circle Sport Racing. While both sponsor and driver are no strangers to the NASCAR Sprint Cup Series circuit, this weekend's race will mark the first-time partnership between Cassill and TMone.
"Going to Talladega this weekend, where any one of the 43 cars that take green flag have a chance to win, I'm excited to partner with an Iowa-based company like TMone that has accomplished a lot in my home state," said Cassill. "They have been actively involved in the sport for the past few seasons, and it's always rewarding to represent companies that see the value in NASCAR."
Cassill, the 24-year-old former development driver for Hendrick Motorsports and Cedar Rapids, Iowa, native, has competed in 28 of the 31 Sprint Cup events this season between the Nos. 33 and 40 entries. In five Sprint Cup Series starts at Talladega, Cassill scored a career-best 16th-place finish in 2011.
"TMone, the newest addition to the ERC Family, has been ready for another solid showing at a Superspeedway since we almost won the Daytona 500 in 2012," said Kirk Moquin, co-CEO of ERC.
"It never hurts to have some luck along with performance, and the restrictor plate races are the events the ERC acquired TMone Chevrolet is looking for some at. We wish Circle Sport and Landon Cassill the best this Sunday and appreciate them helping us celebrate the acquisition," added Marty Sarim, president and COO of ERC.
The NASCAR Sprint Cup Series Camping World RV Sales 500 will be broadcast live on ESPN from Talladega Superspeedway on Sunday, October 20, with pre-race coverage beginning at 1:00 p.m. EDT.
TMONE, LLC
TMone, LLC (pronounced T-M-one) is a leading call center business process outsourcing firm specializing in Customer Relationship Management, technology Integration, inside sales and customer service enterprise solutions. TMone has been listed as one of Corridor Business Journal's Fastest Growing Companies four years in row and one of Inc. Magazine's Fastest Growing Private Companies in America seven years in a row. Headquartered in Iowa City, Iowa, TMone has additional service delivery facilities in Des Moines, Iowa, Dakota Dunes, South Dakota and Spearfish, South Dakota. For further information, please visit http://www.TMone.com.
ENHANCED RECOVERY COMPANY, LLC
Headquartered in Jacksonville, Florida, Enhanced Recovery Company, LLC is a Customer Experience Management firm that has emerged as a leader in the Accounts Receivable Management Industry. Combined with two other branch offices in Orange Park, Florida and Waycross, Georgia, and one international branch office in India, ERC provides collection services to an extremely diversified list of clients encompassing a broad range of asset classes and account segment types. With significant scalability in the areas of facility and data resources, ERC is able to accommodate growth without putting undue strain on its infrastructure. ERC is managed by an elite group of executives that bring extensive industry experience, as well as their vision and innovation, to create a company that separates itself from the competition. For more information, please visit http://www.erccollections.com.