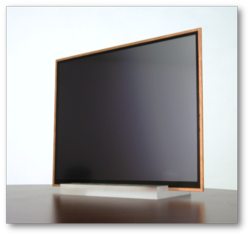 By offering both enhanced windows and customized touch screens, we are able to provide our customers with exactly what they are looking for… a total solution.
Austin, TX (PRWEB) October 26, 2011
Specialty touch screen manufacturer, Touch International confirmed today that it has officially launched its line of customizable display enhancement windows which are designed to improve and expand functionality, optical performance and durability.
The touch screen manufacturer and display enhancement integrator explains that many of its military, medical, aerospace and transportation customers struggle with using off-the-shelf products because of industry regulations and environmental challenges, prompting them to integrate display enhancement windows to reduce LCD glare, expand operating temperatures, suppress electromagnetic interference (EMI) noise and more.
This addition is significant for many OEMs and product manufacturers because as more electronics are introduced into specialized applications, environmental and optical issues will become more widespread.
"With Wi-Fi becoming a 'must have' on commercial and private aircrafts, the use of windows with EMI shielding incorporated into displays and other onboard electronics is becoming more prevalent," explains Touch International CEO, Michael Woolstrum. "By reducing the level of noise and interference that is emitted by other devices, strong Wi-Fi signals can be maintained throughout the flight to ensure a better passenger experience."
With display enhancement options ranging from anti-reflection films and polarizing filters to EMI shielding and LCD backlighting, Touch International is able to provide these and other value-added solutions as part of a glass or plastic overlay, or as a custom touch screen. Other value-added options include custom cover lens printing, optical bonding and display integration.
Touch International acquired display enhancement capabilities in May 2008 when it purchased the DuPont Display Enhancement assets from DuPont's Torrance, Calif. facility. The purchase also licensed Touch International to use DuPont's proprietary Vertak optical bonding technology.
"We are experts with touch and display enhancement technologies," says Woolstrum. "By offering both enhanced windows and customized touch screens, we are able to provide our customers with exactly what they are looking for… a total solution."
To view some of the enhancement options available, visit http://www.touch-intl.com/products/enhancement-windows.html.
About Touch International
Global touch screen manufacturer, Touch International, was founded in 2002 by Michael Woolstrum and long-time veteran, Gary L. Barrett. Headquartered in Austin, Texas, Touch International is a world leader in touch screen and EMI filter technology. The company, with its partner DMC, Co. Ltd. in Osaka, Japan, operates seven manufacturing facilities worldwide with 1,200 employees. Touch International's factories manufacture Apple iPhone-type projected capacitive touch screens, resistive sensors and glass filter products used in touch screens, EMI, anti-reflective and anti-vandal filters.
###