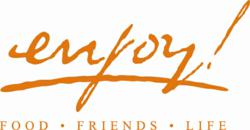 Eat Local MN food and Bike MN trails to the Farm-To-Table event. Promote sustainability and support local businesses.
Apple Valley, MN (PRWEB) September 15, 2011
If you enjoy game fare and beer, Enjoy! Restaurant in Apple Valley, MN is the place to be on Thursday, October 13, 2011. The restaurant will be hosting a farm-to-table, 4 course dinner, partnering with New Belgium Beers.
The evening begins at 5:30 p.m. with a reception on Enjoy!'s Twin Cities award-winning patio (weather permitting) where guests can enjoy Fat Tire Ale. Following the reception, guests will take pleasure in a four-course farm-to-table dinner created by Executive Chef Adam Leisenheimer. The dinner courses will be paired by New Belgium Brewmaster Peter Bouckaert, who will be co-hosting the dinner.
1st Course
Honey Glazed Quail
with Roasted Peppered Shitake Mushroom and Creamed Sweat Corn
Paired with Tripple
2nd Course
Rabbit Stew
Paired with Super Cru
3rd Course
Rack of Wild Boar
Stuffed with Wild Rice Stuffing and a Roasted Parsnip Puree
Paired with IPA
4th Course
Pumpkin Crème Brulee
Paired with Clutch
The game fare will be purchased from individual farmers and small distributors in Hudson, WI and these sources specialize in products not typically found in grocery stores or the average restaurant.
The cost of reception and dinner is $65 per person, plus tax and gratuity. Reservations are required and can be made by calling (952) 891-6569. Enjoy! Restaurant and New Belgium beer share a heart-felt approach to business, whether it is creating memorable experiences for our guests or brewing beer. New Belgium's commitment towards sustainability in brewing & business began on Day One of their history and has continued every day since. Enjoy! supports this commitment and will be offering $10 off the bill for the Farm-to-Table event on Thursday, October 13 for any MN biker that rides a non-motorized bike to Enjoy! that night.
About Enjoy! Restaurant
Enjoy! is located at 15435 Founders Lane in Apple Valley (55124), just east of Cedar Avenue and south of County Road 42, about eight miles south of the Mall of America. Enjoy! is open Monday through Thursday, 11 a.m. to 10 p.m., Friday and Saturday 11 a.m. to 12 a.m., and Sunday 10 a.m. to 9 p.m., with Sunday brunch served from 10 a.m. to 2 p.m.
Enjoy! is part of the Morrissey Hospitality Companies (MHC) family of fine restaurants, which also includes The St. Paul Grill, Pazzaluna, Tria Restaurant and Bar, RJ's American Grill, Paradise Landing in Balsam Lake, WI, M ST. Cafe and Headwaters Cafe. Saint Paul-based MHC is a leading hospitality management company with a prestigious portfolio of hotels, restaurants, and sports and entertainment companies throughout the upper Midwest.
###