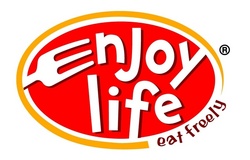 We need to do our best to protect them, but we need to do it in a way that doesn't make our food-allergic kids feel as if they are being singled out
SCHILLER PARK, Ill. (PRWEB) October 6, 2008
Enjoy Life Foods, the country's leader in allergy-friendly and gluten-free foods, teamed up with Gina Clowes of AllergyMoms.com to help ensure that kids with food allergies aren't scared to trick or treat this Halloween just because they can't eat the same snacks as others, and to ensure that no one is frightened if a food-allergic ghost or goblin comes knocking on their door.
These helpful tips for being allergy-aware this Halloween can make trick or treating safe and fun for EVERYONE:
1. Be proactive. If you know of children in the neighborhood with food allergies, ask their parents what types of candies are safe. They'll be thrilled to know you care.
2. Keep a stash of "safe candy" or fun trinkets. Pick up an assortment of Enjoy Life's new boom CHOCO boom™ bars, the first-ever dairy-, nut- and soy-, and gluten-free chocolatey bars. Also, have fun trinkets on hand such as bubbles, Silly Putty, tattoos, stickers, spider rings and bracelets. Kids with food allergies or intolerances will be grateful to receive something they can actually enjoy.
3. Be discreet. If you know a child has food allergies, don't ask "Oh, you're the one with the peanut allergy, right?" Kids want to fit in and don't like to be singled out.
4. Everyone loves ingredient labels. Give out candy with clear ingredient labels so parents and children can decide which candies are safe.
5. Don't drop candy into kids' bags. Allow each child to select his or her candy. More often than not, they'll know which candies are safe and which aren't.
6. Listen to the children. If a child says "No thank you," it may be because they don't see a safe option in what's being offered. Don't make a fuss by insisting they take candy that may not be safe for them.
7. Parents know best. Don't assume that peanut allergy is the only allergy. There are many types of food allergies and food intolerances, so it's important to let parents decide what candy is safe for their child.
8. Think of your guests. If you're entertaining for Halloween, don't leave candy dishes unattended and be mindful of children "stashing" candy. Young children with food allergies may be easily tempted by "unsafe" candy.
"More than anything, children with food allergies just want to be included, and Halloween is no exception," says Gina Clowes, founder of the nationally recognized online support group, AllergyMoms.com. "We need to do our best to protect them, but we need to do it in a way that doesn't make our food-allergic kids feel as if they are being singled out," she adds.
"Enjoy Life Foods is proud to offer delicious treats that allow kids with food allergies, food intolerances, Celiac Disease and other health concerns to feel they're part of the larger group," says Nancy Curby, Director of Marketing for Enjoy Life Foods. Products like our new dairy-, nut-, soy- and gluten-free boom CHOCO boom bars taste so good and chocolatey, all kids can enjoy them and nobody is left out," she adds.
Enjoy Life offers a variety of other great allergy-friendly treats for Halloween including cookies, snack bars and trail mixes. Consumers interested in learning more about these products, printing the "Allergy-Aware Halloween" tips, downloading coupons, and obtaining other information on living with food allergies should visit http://www.enjoylifefoods.com.
About AllergyMoms.com
Founded by Gina Clowes, AllergyComs.com is a nationally recognized website that provides support for parents of kids with food allergies. AllergyMoms.com features articles and products, new food allergy recipes, and the latest news relevant to parents of food-allergic children. Visit http://www.AllergyMoms.com.
About Enjoy Life Foods
Enjoy Life Natural Brands, LLC (d/b/a Enjoy Life Foods, LLC (ELF)) was founded in 2001 with the mission of making great-tasting allergy-friendly foods that most everyone can eat freely. The company launched the Enjoy Life brand in 2002 with a broad product line that is free of the eight most common allergens and gluten-free. To meet the needs of a rapidly growing consumer base, in 2004 the company acquired Perky's™, a line of gluten- and nut-free cereals. Today, ELF offers 29 different Enjoy Life and Perky's products that are sold in natural food and select grocery stores throughout the United States and Canada. Visit http://www.enjoylifefoods.com and http://www.perkysnaturalfoods.com for store locations and more. In September 2008, Enjoy Life Foods was named for the second consecutive year to Inc. 500 list of the fastest growing privately held businesses in the U.S. For more information, visit http://www.enjoylifenb.com.