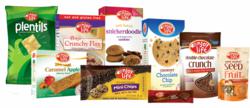 We're excited to introduce new products with on-trend ingredients and the new Grab & Go offerings make living a life with food intolerance a little easier for our valued customers.
Anaheim, CA (PRWEB) March 10, 2012
It just wouldn't be Natural Products Expo West without exciting new products being introduced during the three-day natural foods extravaganza. Enjoy Life Foods, a leader in the allergy-friendly and gluten-free food product category, continues its growth momentum with seven new product launches in its core product line.
First up is their new Crunchy Flax with Chia cereal. Flax is often raved about for its high fiber and Omega-3s, but chia is one of the newest Superfoods to hit the market. If it sounds familiar, yes, chia seeds are those little seeds made famous by Chia Pets, but they have been around as long as the Aztecs (who enjoyed them quite often). Chia seeds are low-carb and gluten-free, making them perfect for diabetics, carb-o-phobes, and celiacs. With a healthy dose of Omega-3 fatty acids, protein, fiber, as well as other nutrients, your cereal has never been so nutritious or delicious. Enjoy Life's Crunchy Flax with Chia boasts over 1000 milligrams of Omega-3s.
Also making their debut at Expo West are convenient Grab & Go products. Enjoy Life customers have anxiously been awaiting this moment, as allergy-friendly and gluten-free snacks are tough to find when traveling. Enjoy Life has taken their best-selling and most popular products and put them in convenient grab and go packages. These new snacks allow people with food intolerance and allergies to be able to grab a single serving of their favorite snack while heading out the door. The products offered in individual serving packets are: two flavors of Seed & Fruit Mixes and four flavors of customer preferred Crunchy Cookies.
"Expo West is an exciting time for Enjoy Life Foods," said Joel Warady, Chief Sales & Marketing Officer. "We're excited to introduce new products with on-trend ingredients and the new Grab & Go offerings make living a life with food intolerance a little easier for our valued customers." Expect to see the vending industry, convenience stores and college campus bookstores clamoring for these convenient snack packs soon.
Enjoy Life Foods' products are all gluten-free and free of the eight common allergens; that means NO wheat/gluten, dairy, peanuts, tree nuts, egg, soy, fish or shellfish—the allergens that account for 90% of all food allergic reactions in the United States. Enjoy Life products are also made without casein, sesame and sulfites. Their products are created in a dedicated nut- and certified gluten-free facility ensuring that all families can safely enjoy any of their snacks.
Enjoy Life Foods began as a class assignment; Company founder Scott Mandell wrote the company's business plan during his MBA program at Northwestern University's Kellogg School of Management. In 2001, Scott traded in his banker's suit for an apron, and Enjoy Life Foods was born. He began with the mission to create great-tasting, allergy-friendly snacks, and today the product line has grown to 40 different foods including cookies, granola, cereal, snack bars, seed and fruit mixes, chocolate bars, baking chocolate, and healthy lentil-based chips, all of which are sold in natural food, conventional grocery stores, and mass retailers throughout the U.S. and Canada, as well as specialty online retailers. In January 2006, the company was the first to receive independent gluten-free certification for all of its products from the Gluten Free Certification Organization (GFCO). Visit them online at enjoylifefoods.com, "like" them at facebook.com/enjoylifefoods or follow them on Twitter at twitter.com/ELFCEO. Visit their Media Center for additional marketing materials. Samples available upon request.
MEDIA CONTACT:
BREAD & BUTTER PUBLIC RELATIONS
Lindsey Reynolds
512.818.1052
lindsey(at)breadandbutterpr(dot)com