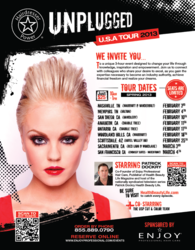 Join us to connect with colleagues who share your desire to excel as an industry authority in professional hair care!
San Diego, CA (PRWEB) February 22, 2013
Patrick Dockry, Co-Founder of ENJOY Professional Hair Care (USP Inc.) invites hairdressers across the U.S. to attend an exciting 3-hour event designed to inspire, build practical and business skills and empower the hairdresser to excel in their field, achieve financial freedom and realize their dreams. Furthermore, the professional stylists will be able to interact with their colleagues in a synergy and unity defined by industry leader, ENJOY Professional Hair Care.
Patrick, along with Team USP have created a full circle approach to behind the chair services and success. The event discusses everything from treatments, chemical service products, cutting, styling and finishing to retail success. Demonstrations will include; simple yet effective cutting techniques, color placement designed to complement the cut, and styling tips to promote industry expertise and authority to professional stylists nationwide.
The Hairdresser Power "Unplugged" Tour began on Sunday February 3rd, 2013 in Nashville, Tennessee. The current tour dates include hotels and private venues in nine U.S. cities including Sacramento, Tampa, Las Vegas and Dallas. The next Hairdresser Power "Unplugged" show is scheduled for February 25th, 2013 in Scottsdale, Arizona, tickets are $25.00 available by phone at 855-889-0790 or online at http://www.enjoyprofessional.com/events/.
The announcement of Hairdresser Power "Unplugged" 2013 follows the launch of Enjoy Professional Hair Care's Semi-Permanent Color Line and National Reader's Choice Award recognition in Beauty Launchpad Magazine.
Hairdresser Power "Unplugged" Tour 2013 dates include:
Monday, February 25th - Scottsdale, Arizona
Sunday, March 3rd – Sacramento, California
Monday, March 4th - San Francisco, California
Sunday, March 17th - Hollywood, Florida
Monday, March 18th - Tampa, Florida
Sunday, April 8th- Las Vegas, Nevada
Sunday, April 21st - Austin, Texas
Monday, April 22nd - Dallas, Texas
Sunday, April 28th- Atlanta, Georgia
For more information please click here.
ENJOY Professional Hair Care is a division of USP, Inc. that is dedicated to providing the professional salon industry with the absolute finest hair care products and most innovative professional hair color. With decades of industry experience in professional hair care, ENJOY understands and supports all aspects of the hair care experience including salon ownership and management, branding, creative, manufacturing, distribution, education, motivation, merchandising, advertising and the customer experience. The ultimate goal is to empower hairdressers with the absolute finest professional hair care products, tools and programs to compete in an ever-changing environment.
USP, Inc.
Founded in 2002 by Patrick Dockry, Co- Founder and CEO & Gordon Fletcher, Vice-President and Co-Founder, USP, Inc. is a global company of Lifestyle and Beauty Brands that inspire life every day. The vision of USP, Inc. is to empower the Professional Hair Stylist with the absolute finest professional hair care products, cutting edge tools and interactive technology. The USP mission is to connect the stylist with their circle of influence to build long-lasting client relationships while elevating the professional stylist status in society.