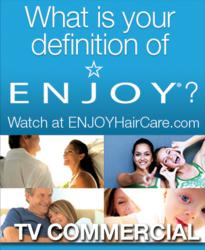 What is your definition of ENJOY?
San Diego, CA (PRWEB) October 18, 2012
ENJOY Professional Hair Care asks "What is Your Definition of Enjoy?" in their first full length national television commercial available to 150 million potential viewers across the U.S. and internationally. Defining the meaning of "enjoy" through inviting imagery, a charismatic tone and prime focus on their salon presence, the company's brand evolves on screen. With words such as "life","love","celebration" and "family" drawn across home televisions, mobile phones and computers the commercial depicts the universal meaning of enjoyment. Furthermore, viewers will experience the ENJOY philosophy of "great hair seven days a week" and be shown the company's product recommender guiding them to visit their local salon professional.
With decades of experience, ENJOY Professional Hair Care has built an infrastructure focused on hairdressers and individuals alike. The brands iconic star logo and inviting imagery is a staple of its stature, from product to packaging, placed in over 3,000 professional salons world wide. The ENJOY Professional Hair Care retail line consists of innovative and real, pH balanced & stable, sulfate-free products that guarantee optimum hair seven days a week. The ENJOY culture is a bond that has grown within its niche from their headquarters in Southern California to Canada and onward. Search their site or view any product and the company's Darwin-like motto upholds, "evolve or die", for ENJOY's goal is not to change the way the world looks at hair but to be the forefront for how the world enjoys life. For a closer look, visit http://www.enjoyhaircare.com, search for a product or salon in your area and just remember to...ENJOY.
ENJOY Professional Hair Care
ENJOY Professional Hair Care is division of USP, Inc. that is dedicated to providing the professional salon industry with the absolute finest hair care products and most innovative professional hair color. With decades of industry experience in professional hair care, ENJOY understands and supports all aspects of the hair care experience including salon ownership and management, branding, creative, manufacturing, distribution, education, motivation, merchandising, advertising and the customer experience. The ultimate goal is to empower hairdressers with the absolute finest professional hair care products, tools and programs to compete in an ever-changing environment.
USP, Inc.
Founded in 2002 by Patrick Dockry, Founder and CEO & Gordon Fletcher, Vice-President and Co-Founder, USP, Inc. is a global company of Lifestyle and Beauty Brands that inspire life everyday. The vision of USP, Inc. is to empower the Professional Hair Stylist with the absolute finest professional hair care products, cutting edge tools and interactive technology. The USP mission is to connect the stylist with their circle of Influence to build long-lasting client relationships while elevating the professional stylist status in society.