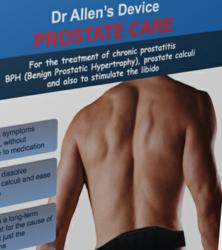 Dr Allen's device has a proven efficacy for prostate enlargement helping senior men to stay healthy and maintain a sexually active life
London, UK (PRWEB) July 02, 2012
New Dr. Allen's device for prostate care is registered with the MHRA, the UK medical devices regulatory authority as Class 1 Medical Device, has proven efficacy in the treatment of enlarged prostate and is easy to use, states Fine Treatment. This device enables the Thermobalancing Therapy that improves the blood circulation inside the prostate terminating prostate enlargement. A video testimonial recorded by the Oxford Innovation Centre presents an interview with David K., a user of Dr Allen's device who has shrunk his enlarged prostate from 130g to 37g: http://www.youtube.com/watch?v=V5xidswhxJM.
"Various medications and surgical procedures used for treatment of BPH can bring lots of serious problems in the future", says Dr. Mohamed S. Awad from Tanta University Hospitals. "I think that this natural option for the treatment of enlarged prostate should be taken seriously and I am confident while recommending it to my patients."
According to the National Institute of Health (NIH), over time an enlarged prostate may cause various symptoms of urinary dysfunction. To ease the BPH symptoms, different prostate removal procedure have been developed. Medline-Plus (health information from the National Library of Medicine) describes 5 of them: laser prostatectomy, transurethral needle ablation (TUNA), transurethral microwave thermotherapy (TUMT), transurethral electrovaporization (TUVP) and transurethral incision (TUIP). None of these procedures cure the underlying prostate problem but only destroy or cut all or a part of the prostate.
The American Urological Association notes that men have to take drugs, such as finasteride or dutasteride, for up to 12 months to get a lower urinary tract symptoms relief, and these medications can cause sexual side effects, including ejaculatory abnormalities and erectile dysfunction. Other commonly used medications, such as Tamsulosin and Alfuzosin, should be taken for years and can develop dizziness upon standing, vertigo and ejaculation disorders.
"Enlarged prostate can now be treated with the new Thermobalancing Therapy naturally protecting men's health and wellbeing from disturbing side effects of other treatment options," says Dr. Allen. "Dr. Allen's device has a proven efficacy for prostate enlargement helping senior men to stay healthy and maintain a sexually active life."
Dr. Allen's Device for Prostate Care treats enlarged prostate gradually. Read more at http://www.finetreatment.co.uk/prostatetreatmentbph/prostatitistreatment.html.
About Dr. Simon Allen and Fine Treatment:
Dr. Simon Allen is a highly experienced medical professional. His specialty is in internal medicine and cardio-vascular field, and he has treated patients with a wide range of chronic disorders, including patients after a heart attack, with prostate and kidney problems, including kidney stones disease, as well as spine and metabolic conditions. Fine Treatment exclusively offers Dr Allen's devices for chronic prostatitis and BPH, coronary heart disease, dissolving kidney stones, as well as lower back pain treatment and sciatica relief.