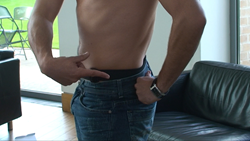 Dr. Allen's Device for prostate treatment is easy to wear at home, and its use protects men from unnecessary health problems enhancing well-being.
London, UK (PRWEB) January 04, 2013
The natural and effective Thermobalancing therapy for prostate enlargement helps its users to avoid aggressive treatment options with the resultant complications, as confirmed by many patient reports. The most recent report, states Fine Treatment, has arrived from Italy in a form of an enquiry: "I started your treatment seven months ago and for last five months the functionality of my prostate is much improved. I am very grateful. I would like to know what the duration of the Thermobalancing therapy is and do I need to continue to wear the belt?"
Contrary to medications and surgeries, Dr. Allen's therapeutic device helps to relieve the symptoms of enlarged prostate naturally. Dr. Allen's device for prostate treatment works 24 hours a day and creates an ideal environment for blood to pass through capillaries in the affected prostate tissue. The improved blood flow cleanses the prostate and over time allows the body to repair itself through its own restorative mechanisms. Please watch a short informative video: http://www.youtube.com/watch?v=V5xidswhxJM.
"I have stopped the BPH medication two weeks after wearing your belt, nearly seven months ago, and do not have problems in urinating since", writes Enrico. The advantage and importance of Dr. Allen's Device working as a stand-alone treatment is that it prevents from sexual dysfunctions common after conventional prostate treatments. It is a serious issue widely discussed in online forums and articles by medical professionals and patients, as it raises anxiety, anger and depression.
According to a Harvard Medical School expert, prostate medications may cause sexual dysfunction. Dr. A. Morgentaler writes: "There are a number of drugs that may lessen sex drive, including the BPH drugs finasteride (Proscar) and dutasteride (Avodart)."
Prostate surgeries are also risky. For example, one patient says, "I was misled by my doctor in 2009. Expected one thing and was incontinent 2 years after TURP. No warning from the doctor," as posted on Men's-Health Forum on Retrograde Ejaculation after Prostate Surgery. Another warning posted on 12 February 2012 by Roger from Stockholm says: "My misfortune than to put myself into the hands of an urologist 3 years ago left me in very bad shape. Very sad when I think of how this affect on my sexuality."
"At this very beginning of the New Year, we are pleased to be able to share a successful experience of one of our patients using the Thermobalancing therapy to treat BPH naturally and avoid aggressive prostate treatment options," says Dr. Simon Allen. "Dr. Allen's Device for prostate treatment is easy to wear at home, and its use protects men from unnecessary health problems enhancing well-being."
For details, visit Fine Treatment at http://finetreatment.com/bph-treatment-prostate-enlargement.
About Dr. Simon Allen and Fine Treatment:
Dr. Simon Allen is a highly experienced medical professional. His specialty is in the internal medicine and cardio-vascular field. He has treated a wide range of chronic diseases, including patients after a heart attack, with kidneys problems, including kidney stones disease, prostate and spine conditions, as well as metabolic disorders. Fine Treatment exclusively offers Dr. Allen's devices for chronic prostatitis and BPH treatment, coronary heart disease, dissolving kidney stones, as well as back pain and sciatica relief.