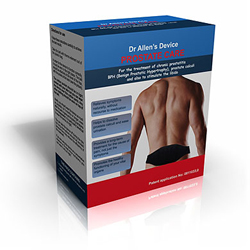 Dr. Allen's therapeutic device helps to reduce the size of the prostate gland that eases the flow of urine.
London, UK (PRWEB) May 16, 2012
It is easy to benefit from the new Thermobalancing Therapy at home by wearing Dr. Allen's Device for Prostate Care which improves the condition of the enlarged prostate gradually without resorting to aggressive drugs and surgeries, Fine Treatment highlights. This therapy is completely natural, and no magnets, batteries or wiring are involved. Benign prostatic hyperplasia (BPH) is a condition where the prostate is enlarged and interferes with the free flow of urine. With Dr. Allen's device, the time it takes to achieve improvement to urination and other symptoms depends on the duration of BPH and the size of the enlarged prostate.
Conventional treatments of prostate enlargement include aggressive medications which may cause serious side effects. For instance, GW's Dr. Irwig states, finasteride (Propecia and Proscar) "can actually change the brain's chemistry. The enzyme 5 alpha reductase is present in many areas of the brain. It is rare for a drug to have the capability to persistently change the brain's chemistry." As for BPH surgeries, according to the American Urological Association Foundation, "Erectile dysfunction, or impotence, is a possible complication following prostate surgery. The erectile dysfunction occurs because the nerves that stimulate the penis for an erection sit near the prostate. Removing the prostate and surrounding tissue may damage the nerves for erections."
In order to protect men from aggressive forms of prostate treatment, the National Institutes of Health (NIH) suggests: "If your BPH symptoms don't bother you too much, you may choose to live with them rather than take pills every day or have surgery. But you should have regular checkups to make sure your condition isn't getting worse. With watchful waiting, you can be ready to choose a treatment as soon as you need it."
Unlike other options, Dr. Allen's therapeutic device is able to control the symptoms of BPH without resorting to aggressive prostate methods of treatment, watch the following video h http://www.youtube.com/watch?v=dCFy_jZgCLw.
"Men should avoid aggressive BPH drugs and surgeries as the new Thermobalancing Therapy can treat the prostate effectively," says Dr. Simon Allen. "Dr. Allen's therapeutic device helps to reduce the size of the prostate gland that eases the flow of urine."
Please, read more at
http://www.finetreatment.co.uk/prostatetreatmentbph/prostatitistreatment.html.
About Dr. Simon Allen and Fine Treatment:
Dr. Simon Allen is a highly experienced medical professional. His specialty is in the internal medicine and cardio-vascular field, and he has treated patients after a heart attack, with kidneys problems, including kidney stones disease, prostate and spine conditions. Fine Treatment exclusively offers Dr Allen's devices for chronic prostatitis and BPH, coronary heart disease, dissolving kidney stones, as well as back pain and sciatica relief.