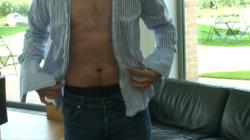 Forget the surgery that will leave your bank account empty, or the painkillers that you will have to absorb for the rest of your life.
London, UK (PRWEB) July 16, 2012
No painkillers, medications and surgeries are involved, while treating benign prostatic hyperplasia (BPH) and sciatica / chronic lower back pain with Thermobalancing therapy, Fine Treatment reveals. So undesirable side effects arising from conventional treatment options can now be avoided. The only thing patients need are unique Dr. Allen's devices that go on top of the painful area while treating back pain or must be applied to the coccyx area for the prostate problems. That's it!
"Lower back pain treatment and relief without surgery can be a reality with the Thermobalancing therapy. Forget the surgery that will leave your bank account empty, or the painkillers that you will have to absorb for the rest of your life," says Dr. Ralph Saint-Phard, MD, Lincoln Medical and Mental Health Center, USA.
According to the National Institute of Health (NIH), chronic lower back pain is most likely caused by degenerative conditions such as arthritis or disc disease. Lower back pain is one of the most common medical problems, affecting 8 out of 10 people at some point during their lives. So Dr Allen's devices and the Thermobalancing therapy they enable can benefit a large share of the US population.
Regarding the application of the Thermobalancing therapy to the treatment of BPH, you can watch a short video on how Dr. Allen's device has helped a user with prostate enlargement: http://www.youtube.com/watch?v=V5xidswhxJM.
On the other hand, according to the Bladder and Bowel Foundation, although effective in relieving symptoms of an enlarged prostate, transurethral resection of the prostate (TURP) can cause complications, leading to retrograde ejaculation. There are several types of drugs that act differently in reducing BPH symptoms which, according to the American Urological Association, have known side effects which vary from drug to drug. A user can start having stomach or intestinal problems, sinus congestion, headache, or dizziness.
"The natural Thermobalancing therapy relieves pain in the lower back and sciatica, is beneficial for an enlarged prostate, and most importantly has no side effects," says Dr. Allen. "Dr. Allen's devices are the first successful natural solution for benign prostatic hyperplasia and lower back pain and sciatica, at the affordable price."
Read more at http://www.finetreatment.co.uk/sciaticatreatment/lowerbackpaintreatment.html
About Dr. Simon Allen and Fine Treatment:
Dr. Simon Allen is a highly experienced medical professional. His specialty is in the internal medicine and cardio-vascular field. He has treated a wide range of chronic diseases, including patients after a heart attack, with kidneys problems, including kidney stones disease, prostate and spine conditions, as well as metabolic disorders. Fine Treatment exclusively offers Dr Allen's devices for the treatment of chronic prostatitis and BPH, coronary heart disease and to dissolve kidney stones, as well as sciatica treatment and lower back pain relief.