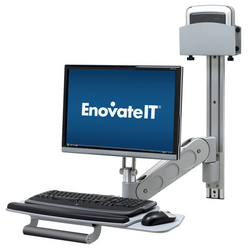 The Fluid offers tremendous possibilities for clinicians who need to maximize the limited work space.
Ferndale, MI (PRWEB) October 1, 2008
EnovateIT proudly announces The Fluid, the next generation in articulating wall-mounted arms. Offering 270 degrees of lateral arm movement and fourteen inches of vertical travel distance, the Fluid meets the flexibility and ergonomic needs of clinicians, whether standing or sitting. The Fluid's space-saving design adjusts to the unique workspace of the clinician, while at the same time allowing access to patient data at the point-of-care.
"We are excited about the increased space and freedom The Fluid offers for those providing medical care in a confined work environment," said Fred Calero, vice-president and co-founder of EnovateIT." The Fluid offers tremendous possibilities for clinicians who need to maximize the limited work space."
With its ability to hold up to 40 pounds, the Fluid can be configured as a wall-mounted computer station or a multiple display wall mount. The arm is manufactured with 95 percent aluminum material and finished with durable anti-microbial paint that complies with infection control policies. The Fluid will also provide a sleek adjustable wall track, integrated cable management, and an optional extension arm for additional reach. The unit, even with the optional extension, retracts to a compact seven inches with the keyboard folding into an upright position for convenient storage. The Fluid easily creates maximum access to the monitor and patient data.
Other features of the Fluid include:

Arm Extension of 35" to LCD, 52½ " to Keyboard
Arm Folded up to 2" to LCD, 8" to Keyboard Handle
Arm Vertical Adjustment of 14"
Arm Rotation is 270°
Min/Max LCD weight of 7lbs to 40lbs
LCD Pivots 270° and Tilts 70°
Integrated Cable Management
Keyboard Dimensions of 19 1/2" x 11 1/2" Multi-screen Capabilities
Optional 18" Extension Arm
Compact Storage
Track Length of 32"
Cable Management: Internal through Arms
Color Option of Silver
Shipping Weight is 50 lbs
Shipping Dimensions are 38" x 22" x 9"
270° of lateral arm movement and 14" of vertical travel distance
About EnovateIT, LLC:
Headquartered in Ferndale, Michigan, EnovateIT is a leading provider of mobile wireless solutions and a premier global systems integrator for healthcare. With more than 40,000 installations in over 1,200 healthcare facilities, EnovateIT provides secure, cost-effective mobile solutions for medication delivery systems, computerized physician order entry, clinical documentation, electronic medical records systems and language translation products and services. EnovateIT not only offers products to facilitate wireless information solutions, but also provides the services and support to make it a reality.
For more information about the Fluid and any of EnovateIT's products, please visit http://www.enovateit.com or call 877.258.8030.
# # #