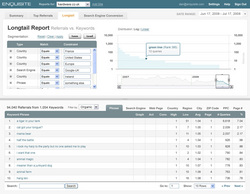 Web analytics is the historic means of looking at how your site is functioning by examining visitor behavior and patterns on the site. Enquisite is in place earlier- where the sale starts - analyzing what happens when a person types in a search keyword and the results pages appear
Online Market World, San Francisco, CA (PRWEB) October 1, 2008
Online marketers have traditionally focused on what happens when a potential customer gets to their website and considers making a purchase decision. But that's not where sales actually start. The search engine results pages (SERPs) that appear after a person searches for "tennis shoes" or "concert t-shirts" are the first touchpoint in the sales cycle--and that's where search analytics comes in.
At Online Market World, Enquisite, Inc, a developer and provider of the next generation of search analytics solutions, will show attendees how search analytics helps online marketers build their customer base by designing campaigns that rank highest in the search engine results page (SERP) rankings.
Enquisite, a San Francisco-based, venture-funded, early stage company, is gaining industry recognition for its leadership and innovation in search analytics development. At the recent Search Engine Strategies conference in San Jose, Calif., Enquisite won its first major award: industry peers deemed it the "Technology Platform Search Marketers Can't Live Without."
"Web analytics is the historic means of looking at how your site is functioning by examining visitor behavior and patterns on the site. Enquisite is in place earlier- where the sale starts - analyzing what happens when a person types in a search keyword and the results pages appear," says Enquisite President Richard Zwicky. "Search analytics gives marketers the opportunity to choose keywords that will get their site closer to the top of the SERPs, identifying keywords with the highest potential to move results from page two onto page one."
Online Market World Search Track:
Zwicky will participate in the "Paid vs. Organic Search" panel at Online Market World, taking place on Wednesday, October 1, at 10:30 AM in Rooms 2014-2016. The panel will explore the relationship between search engine marketing and search engine optimization, and give insights into how these functions can help a marketer improve their online presence.
All About the Longtail:
Enquisite recognizes that, in the past, online marketers haven't optimized the power of the longtail because it was extremely hard to get to the data. The company has designed its technology to let marketers visualize the longtail of keywords, and analyze which keywords lead to eventual sales conversion. The platform gives marketers a digestible snapshot of longtail-related behavior so they can build campaigns and optimize as needed.
About Enquisite Inc.:
Enquisite, Inc. is a developer and provider of the next generation of search analytics solutions. Founded in 2006, Enquisite offers search marketers unparalleled insights into search page rankings and visitor behavior from both organic and pay-per-click (PPC) search listings.
Enquisite is a search engine referral analysis suite that provides in-depth information about Web site visitors referred by search engines. Used by organic and paid search marketers, Enquisite delivers a wide array of search referral data with metrics ranging from a 'big picture' overview to extremely granular information about local search markets.
The company has offices in San Francisco, CA, Victoria, British Columbia and Seattle, WA.
###