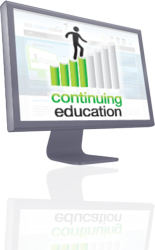 Fast Forward Academy is making it easier than ever for enrolled agents to complete these CE requirements
Orlando, Florida (PRWEB) December 31, 2012
Fast Forward Academy has launched a new, IRS-approved, tax continuing education package for enrolled agents. This new 24-hour premium package is specifically targeted toward enrolled agents who need to complete required IRS CE credits.
The IRS requires enrolled agents to complete a specific number of continuing education hours each year. And while this requirement stipulates 16 hours of CE be completed annually, the IRS also requires enrolled agents to complete 72 hours of tax courses every three years. For this reason, it is recommended that enrolled agents complete 24 hours of tax continuing education every year.
The new premium package includes 24 hours of tax courses, broken down as follows: 19 hours of other federal tax law, 2 hours of ethics and 3 hours of federal tax law updates. All courses are registered with the IRS and CTEC. The complete bundle is available from Fast Forward Academy for $69.99; however, enrolled agents are also able to purchase courses individually.
Fast Forward Academy President, Matt McBride, hopes that enrolled agents take advantage of this new package to complete necessary credits. He states, "The successful completion of all courses in this package satisfies the 24-hour annual continuing education requirement for enrolled agents, and since we offer 24/7 access to each online enrolled agent course, Fast Forward Academy is making it easier than ever for enrolled agents to complete these CE requirements."
The new 24-hour package includes such courses as the following: Tax Return Preparer Ethical Issues; Representing Taxpayers Before the IRS; Aspiring Authors Need Not Apply: The Correct Approach to Deducting Travel Expenses; Retirement Plans, Pensions and Annuities; Tax Treatment of Sickness; and Injury Plans and Education Tax Benefits.
The IRS requires enrolled agents to pass an exam with a score of 70%. All tax courses offered through the 24-hour premium package allows enrolled agents to take an exam until they pass.
Click here to see how Fast Forward Academy's new 24-hour premium package can help you complete required continuing education credits.
About Fast Forward Academy
Fast Forward Academy, LLC provides companies and individuals around the world with the tools to help them efficiently manage their professional education needs. The name Fast Forward Academy reflects the scope of our mission—helping students and professionals accomplish more in less time. To realize this goal, we make every effort to provide the most useful and efficient exam prep material in the market place, all designed to help our students Learn Fast and Pass. Our principal focus is to supply rapid training and streamlined continuing education to professionals in the fields of taxation, securities and insurance.
###