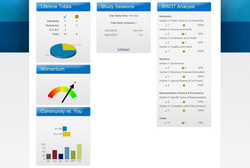 Maitland, FL (Vocus) June 4, 2010
Fast Forward Academy (Maitland, FL) after the tremendous and success and popularity of its free tool to compliment their Enrolled Agent exam study guide, the company expands the number of questions to 800 in the free online question bank. The free tool gives students sample SEE questions and analytics. Approximately 10,000 students seek enrolled agent education to prepare for the Special Enrollment Examination (SEE). Those entrusted with the Enrolled Agent EA designation from the IRS are afforded the privilege to represent tax payers and charge fees for tax advice. In order to achieve this status with the IRS, test takers must pass the SEE concerning tax matters related to Individuals, Businesses, and Representation. Each test is comprised of 100 questions and test takers have 3.5 hours per test. Prometric administers the tests and he 2010 testing season just opened up in March. Studying is vital and doing it efficiently is important, as time is valuable.
One of the key features of the free question bank is that users can see how they measure up against the community of test takers and track their progress over time with detailed analytics. Dashboard tracking includes totals by part, study times, feedback by section, plus track exam readiness through a momentum meter. Rain Hughes author and co-founder explained, "Students overwhelmingly tell us that practice questions are the most effective way to prepare when considering enrolled agent courses. The free test bank is a great tool for anyone studying for the SEE. We felt it was important to expand our test bank and continuously improve the free tool."
The free online test bank has many other features. Users can choose the part of the test they want to focus on, for example, Individuals - Deductions and Credits. Answers are tracked to measure progress and rationale is also displayed to justify or explain the answers. Notes can be recorded while answering questions and later accessed via reports. Questions can be recycled and taken again, for example, the user can select to only be given answers they answered incorrectly. Finally, a timer helps keep track of study times and session stats display while answering test questions.
The free online question bank is very robust and user friendly, but it is also highly recommended that students pick a strong enrolled agent course as a compliment to practice questions. There are many EA exam courses, but the IRS Enrolled Agent Exam Course and Review Material study guide developed by Fast Forward Academy focuses only on the key areas needed to pass the tests. Students should not waste time searching through thousands of pages of the US Tax Code or hundreds of separate IRS forms, form instructions, and publications containing information that may or may not appear in the SEE. Fast Forward Academy's course contains all the necessary information, organized and condensed into one efficient package with guarantees, tools, service, and support to back it up.
About Fast Forward Academy
Fast Forward Academy, LLC provides companies and individuals around the world with the tools to help them efficiently manage their professional education needs. The name Fast Forward Academy reflects the scope of our mission – helping students and professionals accomplish more in less time. To realize this goal we make every effort to provide the most useful and efficient exam prep material in the market place, all designed to help our students Learn Fast and Pass. Our principal focus is to supply rapid training and streamlined continuing education to professionals in the fields of taxation, securities, and insurance.
###