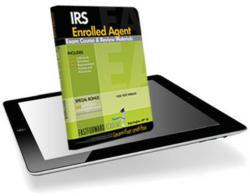 The EA exam is challenging; Fast Forward Academy is always looking for effective ways to help students prepare for it.
Orlando, Florida (PRWEB) May 29, 2013
Fast Forward Academy's recently launched CPA game has been so successful that the internationally renowned tax education company has now developed a game for enrolled agents (EAs). Preparing for the EA exam can be challenging; studying the material via a game format makes the process both effective and fun.
When students sign up for any of Fast Forward Academy's EA prep courses, they gain access to the gaming platform within the site at no extra cost. EA training game options include both single player and multi-player. Those choosing to study via the multi-player option will have access to interactive and social elements, thereby enhancing the game and study experience. Players compete against each other, with performance being tracked and displayed on a leaderboard. Achievement badges are also given for specific performances.
The game itself, which is trivia based, tests players' knowledge of EA course materials and assesses players' readiness for taking the enrolled agent exam. The game tracks a student's performance—how many games played, how many won/lost, how many questions answered correctly/incorrectly, etc. These stats are tracked for every student, so players can gage individual performance against community averages.
Players are able to create a customized profile, all of which are displayed in a common area (game lobby). Players are able to interact with each other (via a chat messaging system), adding to the social element of the game and overall study experience.
Fast Forward Academy President, Matt McBride, is excited to offer this game platform to individuals taking EA training courses. "We've had nothing but positive feedback regarding our CPA exam prep game, and so it was only natural for us to expand this offering to our other students," states McBride. "The EA exam is challenging; Fast Forward Academy is always looking for effective ways to help students prepare for it. This game uses an interactive platform to enhance the study experience, while ensuring students are properly prepared to take the exam."
Click here to learn more about how studying for the EA Exam can be entertaining.
About Fast Forward Academy
Fast Forward Academy, LLC provides companies and individuals around the world with the tools to help them efficiently manage their professional education needs. The name Fast Forward Academy reflects the scope of our mission—helping students and professionals accomplish more in less time. To realize this goal, we make every effort to provide the most useful and efficient exam prep material in the market place, all designed to help our students Learn Fast and Pass. Our principal focus is to supply rapid training and streamlined continuing education to professionals in the fields of taxation, securities and insurance.
###