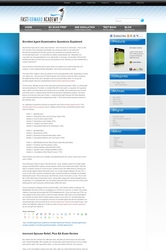 Maitland, FL (Vocus) May 14, 2010
Fast Forward Academy (Maitland, FL) launched an informative Blog offering articles and discussions about the enrolled agent examination. As professionals prepare for the enrolled agent exams, also known as the Special Enrollment Examination (SEE), having access tips and advice can provide that edge to make the cut and pass the first time.
The new Fast Forward Academy Blog is not only visually appealing with Web 2.0 styling and tools, but also allows followers to add the site to RSS readers or subscribe with any tool of choice. Visitors can post comments and engage in discussions, debates, or post enrolled agent exam questions about topics and articles. Other topics include enrolled agent exam sample questions, IRS offer in compromise, and more.
The blog is not just for test takers, enrolled agents can also benefit from the information posted. The article titled New IRS Exam For Tax Preparers Will Not Affect Enrolled Agents is one of many examples. Those entrusted with the EA designation from the IRS are afforded the privilege to represent tax payers and charge fees for tax advice. In order to achieve this status with the IRS test takers must pass three EA exams concerning tax matters related to Individuals, Businesses, and Representation.
FastForwardAcademy.com is a one-stop-shop for enrolled agent exam review with a free online test bank, stats to measure preparedness, links to expert help, and more. The enrolled agent exam study guide is available in many retail outlets and comparison shopping sites, but you can purchase the enrolled agent exam study guides direct - safely and securely - via PayPal, Google Checkout, or Amazon Payments. The best in the business, Amazon Fulfillment, handles all domestic product shipments. When an order is placed, it is communicated to Amazon automatically. Within minutes you get an order confirmation email containing an expected ship and delivery date. Once the order is shipped a second confirmation email is sent with all carrier and tracking details. You can also login to your account at any time to check the status of your order in real-time.
The IRS Enrolled Agent Exam Course and Review Material study guide developed by Fast Forward Academy focuses only on the key areas needed to pass the EA examination. Why waste time searching through thousands of pages of the US Tax Code or hundreds of separate IRS forms, form instructions, and publications containing information that may appear in enrolled agent exam questions. Fast Forward Academy's enrolled agent exam study guide contains all the necessary information, organized and condensed into one efficient package with guarantees, tools, service, and support to back it up.
The enrolled agent examination, officially known as the Special Enrollment Examination (SEE), is a three-part exam administered by Prometric on behalf of the Internal Revenue Service. Each part is taken as a separate 100 question exam and you will have 3.5 hours to answer all questions for that part. A new examination period commences each year on May 1 and continues through February 28 of the following year. No testing occurs during March or April. The period that begins on May 1, 2010 will include questions based on the 2009 tax year. A passing score on each part of the exam is required before the IRS will admit an enrolled agent to practice. Scaled scores are determined by ranking your exam results against others taking the exam, on a scale ranging between 40 and 130. A score of 105 is the minimum required to pass. Test results are available immediately following the exam. Those who pass are informed, but they do not receive a score. Those who fail receive a score along with a diagnostic report indicating the areas of weakness. A candidate may re-take each part up to four times each testing period. There is a two year window from the time they pass the first part to pass the other two parts of the exam.
About Fast Forward Academy
Fast Forward Academy, LLC provides companies and individuals around the world with the tools to help them efficiently manage their professional education needs. The name Fast Forward Academy reflects the scope of our mission – helping students and professionals accomplish more in less time. To realize this goal we make every effort to provide the most useful and efficient exam prep material in the market place, all designed to help our students Learn Fast and Pass. Our principal focus is to supply rapid training and streamlined continuing education to professionals in the fields of taxation, securities, and insurance.
# # #