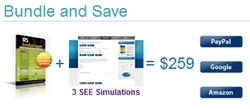 We want to continue to bring value and new products to our customers and the bundled study guide and practice exams allows us to do that and the response from our customers has been overwhelming.
Maitland, FL (Vocus) June 26, 2010
Fast Forward Academy (Maitland, FL) released a bundled product giving those preparing to become enrolled agents a significant saving and value. The bundle includes the study guide and a set of three practice exams providing a complete package for students wanting to take the enrolled exam. The bundle retails for $259.00 on the Fast Forward Academy Web site giving test takers a competitive edge on the exams.
The IRS Enrolled Agent Exam Course and Review Material study guide developed by Fast Forward Academy focuses only on the key areas needed to pass the SEE, it's an enrolled irs agent school in a book. There are thousands and thousands of pages of the US Tax Code and hundreds of separate IRS forms, form instructions, and publications containing information that may appear in the SEE so it is important that students purchase a solid study guide from a company with expertise. The enrolled irs agents search is over, Fast Forward Academy's course contains all the necessary information, organized and condensed into one efficient package with guarantees, tools, service, and support to back it up.
The SEE simulation practice exams have many features. It provides lots of targeted feedback to show how users measure up against the community and tracks progress with detailed, but easy to understand analytics. Answers are tracked to measure progress via a momentum meter and test takers can move from question to question as needed. An exact timer helps keep track of the total test time to measure how fast each question is answered while stopping the exam at the 3.5 hours time limit. The exam allows users to mark questions for review and provides access to an on-screen calculator just like an actual special enrollment examination.
Rain Hughes, author of the company's enrolled agents tax study guide and co-founder says, "We want to continue to bring value and new products to our customers and the bundled study guide and practice exams allows us to do that and the response from our customers has been overwhelming."
Each part of the SEE is taken as a separate 100 question exam and students have 3.5 hours to answer all questions for that part. A new examination period commences each year on May 1 and continues through February 28 of the following year. No testing occurs during March or April. The period that begins on May 1, 2010 will include questions based on the 2009 tax year. A passing score on each part of the exam is required before the IRS will admit an enrolled agent to practice and be listed in an enrolled agents directory. Scaled scores are determined by ranking your exam results against others taking the exam, on a scale ranging between 40 and 130. A score of 105 is the minimum required to pass. Test results are available immediately following the exam. Those who pass are informed, but they do not receive a score. Those who fail receive a score along with a diagnostic report indicating the areas of weakness. A candidate may re-take each part up to four times each testing period. There is a two year window from the time they pass the first part to pass the other two parts of the exam.
About Fast Forward Academy
Fast Forward Academy, LLC provides companies and individuals around the world with the tools to help them efficiently manage their professional education needs. The name Fast Forward Academy reflects the scope of our mission – helping students and professionals accomplish more in less time. To realize this goal we make every effort to provide the most useful and efficient enrolled agent study material in the market place, all designed to help our students Learn Fast and Pass. Our principal focus is to supply rapid training and streamlined continuing education to professionals in the fields of taxation, securities, and insurance.
###