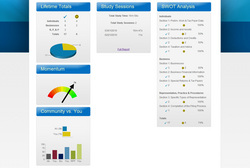 Maitland, FL (PRWEB) March 9, 2010
Fast Forward Academy launches a new product and free online tools for Enrolled Agents. With unemployment rates near 10% it's time for many in the workforce to consider a job change. In life, two things are always inevitable, death and taxes. It is now easier then ever to take control of your career by becoming an Enrolled Agent (EA).
The streamlined Enrolled Agent education platform launched by Fast Forward Academy has the tools and service to put job seekers on a new career path, quickly and inexpensively. Fast Forward Academy has an efficient study guide and free online test bank with tools to measure performance so anyone can learn fast and pass without spending a fortune.
Why become and Enrolled Agent? An enrolled agent is the only tax professional granted a right to practice directly from the IRS. In addition to preparing tax returns, the EA designation affords the same rights as an Attorney or CPA in representing any taxpayer in any state for all tax matters before any office of the IRS. IRS examinations are up over 100% in less than 10 years, and the number of audits is set to rise even further. People need the help of enrolled agents who can represent their interests in negotiations with the IRS. Another notable benefit for an EA is they may legally charge for tax advice, again similar to an attorney. Soon IRS registration will be mandatory for all paid preparers. Paid tax return preparers who are not attorneys, certified public accountants or enrolled agents will have to take a competency test. Anyone planning to prepare returns can increase their credibility and expand their services with an enrolled agent designation. Providing tax advice, representing tax payers, and preparing tax returns all adds up to a career path with unlimited earning potential.
What is required to become an Enrolled Agent? No advanced degree, or even a college education; however, becoming an Enrolled Agent does require some work. The first step is to prepare for the Special Enrollment Exam (SEE). The IRS divides the SEE into three separate tests that you can take at different times. Those parts are individuals, businesses, and representation. Each test is comprised of 100 questions and test takers have 3.5 hours per test. Prometric administers the tests and the 2010 testing season has just opened up. Studying is vital and doing it efficiently is important, as time is valuable.
The IRS Enrolled Agent Exam Course and Review Material study guide developed by Fast Forward Academy focuses only on the key areas needed to pass the exam. Why waste time searching through thousands of pages of the US Tax Code or hundreds of separate IRS forms, form instructions, and publications containing information that may appear on the exam. Fast Forward Academy's course contains all the necessary information, organized and condensed into one efficient package.
Having a great study guide is important, but practice makes perfect so Fast Forward Academy has developed a free online test bank for anyone needing practice. This free tool can measure performance and show users how they compare to others using the free question bank. Fast Forward Academy has organized the questions into the various subject areas that appear on each exam so users can focus on weak areas and improve results. The free testing tool automatically tracks momentum, study time, part and section performance, and finally a comparison against the community. Fast Forward Academy as created the ultimate tools needed to learn fast and pass to jump-start your new career as a tax professional.
Media Contact:
888-798-7277
###