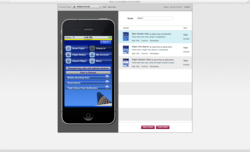 On our mobile platform, customers talk to us on the go, all the time, using the language of page views and clicks. Ensighten will empower us to collect those interactions to understand and serve them better.
Cupertino, CA (PRWEB) October 24, 2012
Ensighten, innovator of enterprise tag management and visitor privacy solutions that optimize web analytics and digital marketing performance while ensuring privacy compliance, has released a major upgrade of Ensighten Mobile, its tag management technology that gives publishers, game developers and marketers insight into mobile app usage and campaign performance. An industry first, Ensighten Mobile 2.0 leverages Ensighten's single line of code technology to enable comprehensive, real-time tagging of any mobile app without requiring developers to integrate proprietary SDKs or compile tags into the mobile app. For compatibility with an enterprise's existing tools, Ensighten Mobile 2.0 supports all major enterprise Web analytics platforms.
Ensighten Mobile 2.0 brings a new level of marketing agility to mobile app management
As mobile has become integral to online marketing and analytics, marketers are striving to integrate visitor data for their mobile apps with website visitor data to make it easy to derive aggregated insights into customer engagement. Until now, tapping into mobile analytics data has typically required mobile-specific tools, leading to silos of mobile data that hindered multichannel analytics. Mobile analytics data has also been less nimble than its Web counterpart because modifying the tags embedded in a mobile app required recompilation and resubmission of the app to an app store. By enabling on-the-fly modification of mobile tags, easy integration of enterprise-class Web analytics tools, and requiring no modification to app source code, Ensighten Mobile 2.0 brings a new level of marketing agility to publishers and businesses that seek real-time insights into how their mobile apps are being accessed and used.
"On our mobile platform, customers talk to us on the go, all the time, using the language of page views and clicks. Ensighten will empower us to collect those interactions to understand and serve them better," said Abhijit Patil, senior manager of marketing data strategy & infrastructure development at United Airlines.
"With this release of Ensighten Mobile, we're delivering two major benefits to brands that deploy mobile apps. First, we've made it possible to easily integrate any enterprise's Web analytics tool into their mobile apps – no more mobile data in a separate data-reporting silo. Second, Ensighten Mobile 2.0 is revolutionary in that it brings real-time tagging to mobile, enabling the modification of data collection on the fly across your entire mobile customer base," said Des Cahill, VP of marketing at Ensighten. "These are major breakthroughs, which is why Ensighten Mobile is getting high marks from customers that include a major commercial airline and a leading vendor of security software."
Ensighten Mobile 2.0 is available immediately and delivers numerous benefits that include:
■ All mobile tags supported. Includes support for analytics, ad networks, video services, chat, etc.
■ Real-time management of mobile tags. Only Ensighten Mobile enables real-time mobile tag modifications, delivering the same degree of tag control that marketers have to come to expect from Ensighten on their websites. Marketers can now adjust mobile marketing tags quickly to capitalize on user activity; sample test with multiple mobile analytics vendors; change or A/B-test ad networks on the fly; and control tag use based on conditional variables such as network provider, battery threshold, screen, click, device/platform, and more.
■ Easy developer integration – no SDK. Ensighten Mobile uses a single line of code that a developer can easily embed in app source code — none of the steep learning curve and development delays typically associated with SDK-based solutions.
■ True multichannel analytics. Marketers can easily collect the same valuable visitor data from their mobile apps as they collect from a website, improving data completeness and accuracy across all channels and adding enormous value to the increasingly important mobile channel.
■ Template-driven setup and reporting. Ensighten Mobile includes pre-defined templates for mobile analytics providers such as Webtrends, Google Analytics, SiteCatalyst, Mixpanel, etc., and easily supports all enterprise Web analytics tools and other tags. Marketers can also easily define custom templates with drag-and-drop ease.
To learn more about Ensighten Mobile, visit ensighten.com/products/ensighten-mobile.
ABOUT ENSIGHTEN
Ensighten's enterprise tag management and privacy solutions enable the world's largest enterprises to manage their websites more effectively. Ensighten's industry-leading tag management platform replaces hundreds of lines of code per Web page with a single line of code, and empowers marketers with an easy-to-use Web interface that lets them quickly add, remove or manage any third-party service such as Web analytics tags or advertising pixels. Ensighten's global Tag Delivery Network serves over 750 billion tags annually, representing over 1500 different digital marketing services, to more than 25,000 Web domains across 150 countries, accelerating page-load times and handling more than $25 billion in ecommerce for top brands that include A&E Networks, LendingTree, Lenovo, Microsoft Stores, Monster, Sony, and Subaru. Visit us on the Web at http://www.ensighten.com, and follow Ensighten on facebook.com/ensighten and Twitter @ensighten.