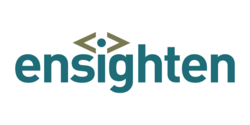 200 billion tags served in a single quarter – while at the same time accelerating page-load performance – is huge and underscores our dominance among global, high-traffic retail sites.
CUPERTINO, CA (PRWEB) July 19, 2012
Ensighten, innovator of enterprise tag management and visitor privacy solutions that optimize web analytics and digital marketing performance, served more than 200 billion digital marketing tags to the websites of leading global brands during the second quarter of 2012. This represents a five-fold increase compared to the previous quarter. This rapid growth was fueled by record sales during the quarter as more of the world's largest enterprises selected Ensighten's advanced tag management technology to accelerate their websites and enable online marketing teams to rapidly deploy and manage digital marketing services such as Web analytics, social sharing, site personalization, and online advertising networks.
With customer wins this quarter that include Dell, Verizon, Thomson-Reuters, Scholastic, Subaru, Orchard Brands and TUI, Ensighten now provides tag management for more than ten percent of the Internet Retailer 100 (including two of the top five companies listed on the index), across 15,000 customer website domains.
"200 billion tags served in a single quarter – while actually accelerating page-load performance – is huge and underscores our dominance among global, high-traffic retail sites," said Des Cahill, VP of marketing at Ensighten. "Our Tag Delivery Network is far and away the industry's most advanced tag management infrastructure, and the fact that top brands prefer Ensighten demonstrates that our tag management platform is unparalleled in supporting the needs of enterprise websites."
Ensighten CEO Josh Manion added "Our customers can deploy tags on a highly customized, per-visitor, per-session basis while still accelerating website performance. Only Ensighten enables this level of sophisticated, website personalization for high-volume, enterprise-scale retailers and publishers."
Industry analyst firm 451 Research recently profiled Ensighten: "To us, Ensighten provides a valuable service. The company offers a simple, cloud-based user interface that brand marketers can use to access tags and place or remove them on any of their Web properties, kiosk-based interfaces, Flash animations, and so on. There is a lot of opportunity for Ensighten among Global 2000 companies with millions of Web pages," said Martin Schneider, research manager, enterprise software, 451 Research.
This quarter's highlights
■ Expansion into Europe with the opening of Ensighten's EMEA office in London, headcount doubling to 12, and the addition of notable British brands TUI, RAC, Norgren and Ferguson to the customer roster.
■ A competitive win at Subaru, where Ensighten decreased homepage load time on Subaru.com by 2.7 seconds, compared to the incumbent tag management vendor, whose product is based on inefficient, container tag architecture.
■ Recognition of Ensighten's leadership in adopting best practices in online privacy and security by the Online Trust Alliance Honor Roll.
■ The launch of PrivacyEU, Ensighten's first free service for publishers, giving them a simple way to comply with the UK Cookie Law.
■ Doubling US headquarters office space again to accommodate hiring in sales, marketing, and engineering.
ABOUT ENSIGHTEN
Ensighten's enterprise tag management and privacy solutions enable the world's largest enterprises to manage their websites more effectively. Ensighten's industry-leading tag management platform replaces hundreds of lines of code per Web page with a single line of code, and empowers marketers with an easy-to-use web interface to quickly add, remove or manage any third-party service — such as Web analytics tags or advertising pixels. Ensighten's global Tag Delivery Network serves over 750 billion tags annually to over 15,000 Web domains, accelerating page load times and handling more than $20 billion in ecommerce for top brands that include A&E Networks, LendingTree, Lenovo, Microsoft Stores, Monster, Sony, and Subaru. Visit us on the Web at http://www.ensighten.com, and follow Ensighten on facebook.com/ensighten and Twitter @ensighten.