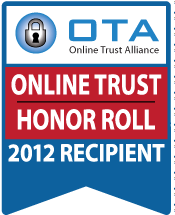 Being recognized as leader in online trust and privacy practices is tremendously important to us. Our customers and partners can rest assured that our tag management and privacy solutions remain safe and secure.
CUPERTINO, Calif. (PRWEB) June 06, 2012
Ensighten, innovator of enterprise tag management and visitor privacy solutions that optimize Web analytics and digital marketing performance, announced it has been named to the Online Trust Alliance (OTA) 2012 Online Trust Honor Roll.
The nomination was based on a composite trust score of security and privacy measures at hundreds of online sites. The OTA is a global, member-based non-profit backed by nearly 100 businesses, organizations and government agencies. Together, these members participate on working committees to help develop best practices and shape public policies that enhance online trust, spur innovation, and promote the vitality of the digital economy.
Ensighten joins other businesses and organizations that share a commitment to ensuring their technologies and products foster and enable consumer privacy online. Designed to recognize leadership, the Honor Roll distinguishes Ensighten as a "North Star" to inspire others. As part of the 2012 study released today, the OTA analyzed the adoption of key security and privacy initiatives, providing benchmark reporting and comparisons between key industry sectors including leading Internet retailers, FDIC Top 100 Banks, and social networking sites. Of the companies evaluated by the non-profit, member-based OTA, less than 30 percent made the grade.
"Today's businesses are stewards of ever-increasing amounts of users' personal and sensitive data that necessitate the implementation of privacy and security best practices," said Craig Spiezle, executive director and president, Online Trust Alliance. "Being a member of the 2012 OTA Online Trust Honor Roll means Ensighten has demonstrated exceptional leadership and commitment towards online safety, to enhancing the vitality of the internet, and, most importantly, to consumer trust."
"Being honored by the OTA as a member of the 2012 Trust Honor Roll is an important milestone for Ensighten," said Josh Manion, founder and CEO. "Ensighten's mission is to help organizations more effectively manage their Web data collection and data privacy activities. Being recognized as leader in online trust and privacy practices is tremendously important to us. Our customers and partners can rest assured that our tag management and privacy solutions remain safe and secure, even as our platform traffic has grown ten times, year over year."
The OTA 2012 report examined more than 1,200 domains and privacy policies, approximately 3,600 Web pages, and more than 500 million emails. In addition, public records were analyzed for recent data breach incidents and settlements with the FTC.
The focus of the OTA Online Trust Honor Roll is to:
1. Recognize exemplary efforts of leading companies toward data and user protection, as security & privacy efforts, and highlight them as "North Stars." Organizations on the Honor Roll manage data via security best practices while having transparent privacy practices.
2. Demonstrate OTA's commitment towards providing prescriptive advice, tools and resources to businesses to enhance the security and privacy of the Internet.
3. Underscore the importance of focusing on security and privacy holistically, and that individual security and privacy initiatives cannot be pursued in isolation.
4. Provide benchmark scoring, using the Online Trust Index (OTI) and reported data attributes, for companies to evaluate their own sites, for businesses to use in evaluating partners, and for consumers to consider when interacting or doing business online.
Since 2010, the OTA Online Trust Honor Roll has recognized organizations that follow best practices in data security and privacy. In previous years, the study was named the OTA Online Safety Honor Roll and Scorecard Honor Roll. Recipients have risen from 8 percent of sites analyzed in 2010, to 25 percent in 2011, to nearly 30 percent in 2012.
ABOUT THE ONLINE TRUST ALLIANCE (OTA)
The Online Trust Alliance (OTA) is a member-based non-profit representing the global Internet ecosystem, including the public and private sectors. OTA's mission is to develop and advocate best practices and public policy that mitigate emerging privacy and security threats while enhancing online trust, innovation and the vitality of the digital economy. OTA is committed to protection of critical infrastructure, balanced legislation and data protection through the promotion of best practices, benchmark reporting, and self-regulation. https://otalliance.org.
ABOUT ENSIGHTEN
Ensighten's enterprise tag management and privacy solutions enable the world's largest enterprises to manage their websites more effectively. Ensighten's industry-leading tag management platform replaces hundreds of lines of code per Web page with a single line of code, and empowers marketers with an easy-to-use web interface that lets them quickly add, remove or manage any third-party service such as Web analytics tags or advertising pixels. Ensighten's global Tag Delivery Network serves over 160 billion tags annually to more than 13,000 Web domains, accelerating page load times and handling more than $16 billion in ecommerce for top brands that include A&E Networks, LendingTree, Lenovo, Microsoft Stores, Monster, Sony, and Subaru. Visit us on the Web at http://www.ensighten.com, and follow Ensighten on facebook.com/ensighten and Twitter @ensighten.