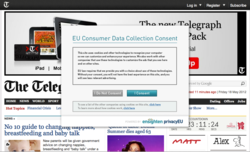 EU Member states will enact the Directive in ways that reflect their view on e-privacy. This will create a mountain of legal complexity for brand owners in Europe.
London, UK (PRWEB) May 23, 2012
Ensighten, innovator of high-performance tag management systems (TMS) for top brands and marketers, has launched a free Web service to help publishers, marketers, and etailers quickly comply with the new UK Cookie Law, the UK's implementation of the EU ePrivacy Directive. Ensighten PrivacyEU complements Ensighten's recently announced Ensighten PrivacyDNT service. Together, these free services give publishers a complete solution to ensure alignment with consumer online privacy initiatives.
Ensighten PrivacyEU setup takes minutes, and imposes no limitation on traffic volume or the number of Web domains supported. After adding a single line of code to their websites, publishers can recognize which visitors are from the UK and present them with a dialogue box that requests their explicit consent for any data collection for tracking purposes. Ensighten PrivacyEU leverages tag classification data provided by PrivacyChoice, and is based on the same robust technology platform that powers Ensighten Privacy, Ensighten's enterprise-class privacy solution.
"The laws emerging in the European Union invariably go far beyond the recommendations and best practices embodied in the Do Not Track standard that is evolving in the United States," said Des Cahill, VP of marketing at Ensighten. "Publishers and etailers worldwide need to pay careful attention to the ePrivacy Directive and ensure their websites conform to its requirements. Ensighten PrivacyEU provides simple and free compliance with these laws and enables them to reassure site visitors that their rights are being respected."
"EU Member states will enact the Directive in ways that reflect their view on e-privacy. This will create a mountain of legal complexity for brand owners in Europe. Ensighten Privacy enables clients to simultaneously comply with each member state's enactment of the legislation, making the lives of digital marketers much simpler," said Adrian James, managing director of Ensighten EMEA.
Ensighten gives publishers complete control over third-party tags on their websites
Ensighten PrivacyEU provides a comprehensive solution to a publisher's privacy compliance needs:
■ Simple installation — just one line of JavaScript per site page
■ Ensures UK-origin site visitors are presented with a EU/UK-compliant opt-in
■ Covers all tags on site — no need to modify any tags or move into a TMS
■ Recognizes and lists all tags on a website
■ Privacy categorization of tags based on data from consumer e-privacy leader PrivacyChoice
■ Simple to configure and maintain — intuitive dashboard for modifying tag categorization
■ Automated new tag detection, auto-classification and email alerts
■ Ongoing updates to web service to stay up to date with ongoing ICO guidance
Ensighten PrivacyEU will be available on May 26, 2012.
Publishers worldwide run the risk of violating the EU ePrivacy Directive
The UK Cookie Law, which will be enforced starting May 26, 2012, marks an important milestone for publishers: it is the first piece of legislation enacted by a European member state, and is derived from the EU ePrivacy Directive. The law requires publishers to seek the consent of visitors to their website before placing any cookies on their computers or activating other data collection techniques to enable tracking of which websites have been visited. Penalties of up to £500,000 per violation can be levied on publishes that violate the Directive.
ABOUT ENSIGHTEN
Ensighten's enterprise tag management and privacy solutions enable the world's largest enterprises to manage their websites more effectively. Ensighten's industry-leading tag management platform replaces hundreds of lines of code per Web page with a single line of code, and empowers marketers with an easy-to-use web interface that lets them quickly add, remove or manage any third-party service such as Web analytics tags or advertising pixels. Ensighten's global Tag Delivery Network serves over 150 billion tags annually to more than 13,000 Web domains, accelerating page load times and handling more than $16 billion in ecommerce for top brands that include A&E Networks, LendingTree, Lenovo, Microsoft Stores, Monster, Sony, and Subaru. Visit us on the Web at http://www.ensighten.com, and follow Ensighten on facebook.com/ensighten and Twitter @ensighten.