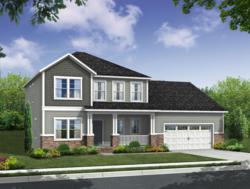 Ensight truly understands today's homebuyer and is delivering the right product at the right time.
Columbia, SC (Vocus/PRWEB) March 09, 2011
New home buyers are in the driver's seat these days, with many options throughout the Columbia and Lexington, SC area. But discerning customers want to be impressed by more than the volume of inventory. Ensight Homes recorded five home sales in February with over One million dollars in sales volume! The activity level for new homebuyers looking to buy a newly constructed home at a great value is brisk.
"Today's buyer expects to be seriously wowed, and an uninspired 'box' home – even one with granite countertops and hardwood floors – just isn't enough," says Ensight Homes partner Jeremy Graves.
Ensight brings that new-home 'wow' to the table. The company's founding partners (Graves, James "Bugsy" Graves and Andy White) are successful local builders with deep experience and market knowledge. This permits them to take advantage of infill and foreclosure opportunities in well-established neighborhoods like Silver Creek and pass savings directly on to buyers.
Ensight's homes combine efficiency and comfort with the accent on esthetics. "Our collection was designed by an award-winning national architect. We challenged her to bring classic styling to a solidly built, affordable home loaded with modern features that increase livability and convenience," White adds. For example, every Ensight home has at least two entrances into an oversized kitchen, where the traditional island has been transformed into a high-tech hearth. Search a recipe on line, prepare it and oversee homework all in one large, comfortable space.
The homes also boast green, money-saving features like LEED for Homes and Energy Star certifications. These prestigious designations reflect energy efficiency and high levels of environmental performance.
Then there's the homebuying process, which Ensight has stripped of hassles to make it intuitive and enjoyable. Being local is another big plus. "Large national builders simply cannot compete with Ensight's accessibility to their buyers," notes Betsy Sheppard, president of Gilbert & Sheppard, whose award-winning agency was chosen by Ensight to market the company.
Combine these advantages with a surprisingly affordable price point and Ensight Homes is the clear choice for buyers who truly want it all.
"We are thrilled to be working with Ensight," says Eddie Wilder, president of ERA Wilder Realty, the company's local real estate partner. "Ensight truly understands today's homebuyer and is delivering the right product at the right time. We are confident that we have partnered with the right builder in order to offer the ultimate home buying experience."
Ensight Homes is a South Carolina-based company whose partners, long-time local builders, intimately know the area and its people. Their fresh, local approach to affordable family living makes them one of the area's most exciting – and intelligent – new home choices. Learn more at Ensighthomes.com or by calling (803) 356-0540.
# # #