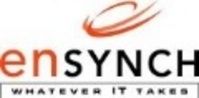 Jed is the ideal person to lead our talent group given his decades of IT industry experience that spans across verticals from computer hardware and software, to healthcare to insurance
TEMPE, Ariz. (PRWEB) January 31, 2008
"Jed is the ideal person to lead our talent group given his decades of IT industry experience that spans across verticals from computer hardware and software, to healthcare to insurance," said Gene Holmquist, CEO for Ensynch. "We're glad to have Jed in this role as our customers have come to appreciate the unique offering we deliver to IT groups within mid-market and enterprise organizations when it comes to filling the need for technical talent."
This addition to the Ensynch team comes at a time when the market for IT professionals is strong and continues to be the fastest-growing sector in the U.S. economy, with more than a million new jobs projected to be added between 2004 and 2014. Five of the 30 occupations projected by the U.S. Bureau of Labor Statistics to grow the fastest by 2016 are IT-related, led by network and data communications analysts, software engineers, and systems analysts.
"The market for technical talent is going to become increasingly competitive," said Lazzeri. "But I see planned growth among many of Ensynch's top clients."
A recent survey from the Society for Information Management (SIM) shows that IT leaders report their greatest challenge to be recruiting the right IT people and then developing and retaining them. In the 2007 SIM survey of 130 senior IT execs, 51 percent cited "attract, develop, and retain IT professionals" as a top concern, more than any other factor.
This role represents a promotion for Lazzeri, an IT professional with more than 23 years experience in providing solutions in global enterprise IT environments.
Most recently, Lazzeri served as International Program Manager where he was responsible for the Global implementation of Active Directory, Patch Management and Network Intrusion Appliances for a global Fortune 50 company with locations in 220 countries. Prior to that, he was the Director of Information Solutions Group for Cigna Healthcare Western Region. Lazzeri served as Director of Information Services for Scottsdale Healthcare, an Integrated Delivery Network that includes two acute hospitals, 14 family care offices and one home health agency. Prior to that, he served as Director of Information Services for Kent General Hospital, a 210-bed regional healthcare provider located in Dover, Delaware. Lazzeri served as a Manager in the National Healthcare Information Technology Group for Price Waterhouse. Lazzeri holds a BS degree in Computer Science from West Chester University in West Chester, Pennsylvania.
About Ensynch
Ensynch is an award-winning provider of IT infrastructure services, IT staffing and managed hosted services. Founded in 2000, Ensynch provides a full range of secure, manageable, and cost-effective technology solutions that help growing businesses operate more efficiently, with greater security and increased agility. Ensynch serves mid-market to enterprise-level commercial and public sector customers. The company's business technology offerings include IT strategy, assessments, implementation, staffing and data center solutions ranging from colocation to remote monitoring to fully outsourced IT management. Ensynch has earned consecutive spots on the Inc 500 and numerous Microsoft distinctions including a Worldwide Partner Excellence Award. Ensynch is headquartered in Tempe, Ariz., serving the Southwest and select clients in Europe. The company also has offices in Southern California in San Diego, Irvine and Los Angeles. For more information visit http://www.ensynch.com.