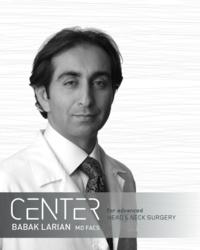 It is a great honor to receive this award. It is my priority to ensure the well-being of my patients and their positive feedback about their experiences with me affirms that I am providing them with the high-quality and personalized care they each deserve
Los Angeles, California (PRWEB) March 06, 2012
Ear, nose and throat specialist, Babak Larian, MD, FACS, of the CENTER for Advanced Head and Neck Surgery in Los Angeles, has been recognized as one of America's Most compassionate Doctors by the Patients' Choice recognition program for 2011.
"It is a great honor to be recognized as one of 2011's Most Compassionate Doctors. It is my priority to ensure the well-being of my patients and their positive feedback about their experiences with me affirms that I am providing them with the high- quality and personalized care they each deserve," said Dr. Larian.
Dr. Larian received this recognition as a result of positive feedback from patient reviews about his compassionate approach to medicine. His patients continually express their gratitude for his ability to not only treat diseases, but also for his unconditional kindness and integrity throughout their care. According to Patients' Choice, doctors rarely receive uniformly rave reviews across the board like Dr. Larian.
While many physicians receive positive patient reviews, only a select few receive praise about the compassion they provide their patients during treatment and care. In fact, of the nation's 720,000 active doctors, Dr. Larian was part of the less than 3% to receive this honor from their patients in 2011.
Dr. Babak Larian, the Chairman and the Director of the CENTER for Advanced Head & Neck Surgery in Los Angeles, is a highly experienced and reputable, board-certified ear, head and neck surgeon, specializing in ear, nose and throat surgery. Dr. Larian is nationally renowned for his expertise in minimally invasive surgery techniques in the treatment of sinus, thyroid, parathyroid, salivary glands and throat disorders.
For more information about the CENTER please visit http://www.LarianMD.com