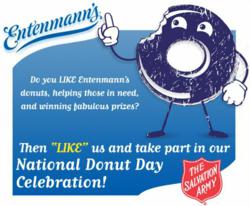 Horsham, PA (PRWEB) June 02, 2011
Entenmann's® Bakery, the maker of over 100 sweet baked goods, from crumb cakes to cookies, is partnering with The Salvation Army to foster participation in National Donut Day on June 3. The holiday, held yearly on the first Friday of June, was founded by The Salvation Army in 1938 to honor the women who served donuts to soldiers during World War I. Entenmann's Bakery is donating $10,000 to The Salvation Army as part of a Facebook campaign to support the effort.
"Donuts are such a historic and celebrated part of our culture," said Maureen Sticco, Director of Entenmann's Marketing Services. "Because Entenmann's Bakery has been baking for more than a century, we're proud to support the Salvation Army on National Donut Day."
To sweeten National Donut Day further, consumers can also visit the "Donut Day" link on http://www.facebook.com/entenmanns, to enter a sweepstakes for a chance to win one of ten iPads. All entries must be received by 11:59:59 p.m. ET on June 15, 2011. Winners will be randomly selected from all submissions.
On June 3, New York City-based donut lovers can visit Entenmann's Bakery and The Salvation Army at the PIX11 Plaza to receive free donuts, coffee and other giveaways. Visit 220 East 42nd Street (between 2nd and 3rd Avenues) from 6:00 a.m. to 9:00 a.m. to participate.
About Entenmann's Bakery
Founded in 1898, Entenmann's® Bakery has over 100 sweet baked goods, including crumb cakes, donuts, chocolate chip cookies, multi-grain cereal bars and dessert bars. Entenmann's products are baked by the Bimbo Bakeries USA companies, which operate 35 bakeries in the United States and bake top brands such as Arnold®, Bimbo®, Boboli®, Brownberry®, Francisco®, Freihofer's®, Marinela®, Mrs Baird's®, Oroweat®, Stroehmann®, Thomas'® and Tia Rosa®, through more than 7,000 routes. The Bimbo Bakeries USA companies are headquartered in Horsham, PA, and are owned by Mexico's Grupo Bimbo, S.A.B. de C.V., one of the world's largest baking companies with over 108,000 associates and operations in 17 countries throughout the Americas, Europe and China. More information about Bimbo Bakeries USA companies' full line of products can be found at http://www.bimbobakeriesusa.com.
# # #