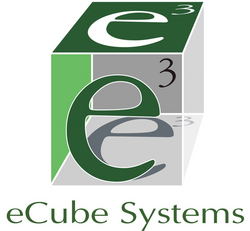 "With today's announcement, eCube extends legacy evolution to the IBM System z running Linux," said Kevin Barnes, CEO of eCube Systems. "Heritage applications built in C or on legacy RPC, DCE or Entera middleware can now be migrated to NXTera running on a
Houston, TX (PRWEB) December 2, 2009
eCube Systems, a leader in legacy evolution and application modernization, today announced that it has achieved the IBM Ready for LINUX mark for its NXTera™ high performance middleware. This mark certifies NXTera has met compatibility and integration specifications established by IBM for LINUX on the System z mainframe, which run the daily computer transactions for many of the world's top banks and multinational firms.
"With today's announcement, eCube extends legacy evolution to the IBM System z running Linux," said Kevin Barnes, CEO of eCube Systems. "Heritage applications built in C or on legacy RPC, DCE or Entera middleware can now be migrated to NXTera running on an IBM mainframe. This capability saves money and improves performance. That's exciting."
High Performance Middleware
NXTera provides the performance required for high-speed distributed computing on LIinux and IBM System z. NXTera is used to integrate independent application logic and business services running on multiple systems (or virtual instances) with high reliability, powerful runtime management and fast transactional data access.
Now NXTera users can easily develop distributed RPC applications that can leverage one of the most scalable platforms for Linux computing, Linux on System z. NXTera and Linux on System z allow companies and governments to simplify their computing infrastructure -- especially those based on Entera™ and DCE-based RPC middleware -- replacing legacy middleware with NXTera.
Multiple UNIX and PC servers and all of the distributed business logic they run can be combined onto one mainframe, as one System z can replace up to 1,500 x86 servers using 85 percent less floor space and up to 85 percent lower energy costs. By consolidating multiple servers to one System z, the applications naturally "inherit" all the benefits of centralization, including reduced operating costs, while still leveraging specialized RPC servers, utilizing the mainframe's virtualization capabilities.
NXTera enables developers to quickly develop new applications for 32 and 64-bit based Linux on System z systems. Additionally, NXTera delivers Eclipse-based development and management of high performance RPC-based applications with integration with other contemporary architectures, such as WebSphere/J2EE and Web Services. NXTera is modern multi-threaded High Performance RPC middleware based on the highly respected Entera™ middleware product. Both are widely used in Fortune 500 companies.
During IBM's Application Advantage for Linux evaluation process, eCube also received certification for NXTware Legacy Evolution Workbench, its Eclipse-based remote maintenance and development tool as well as NXTminder, its runtime configuration and monitoring system.
About eCube Systems, L.L.C.
eCube Systems helps companies maximize return on technology investment by providing development tools, legacy evolution products and consulting services that extend enterprise systems. Fortune 1000 companies and government agencies turn to eCube Systems to reduce risk, extend ROI, and increase productivity as they develop high performance solutions and consolidate existing capabilities by evolving to and integrating with contemporary Web Services.
All brand and product names are trademarks or registered trademarks of IBM or eCube Systems in the United States and other countries. All other marks are the property of their respective owners.
eCube Systems, LLC, is headquartered in Montgomery, Texas, with marketing offices in Boston, MA and R&D in San Mateo, California, USA and Montreal Canada. For more information, contact eCube Systems by email, on the World Wide Web at http://www.ecubesystems.com, or by calling (866) 493-4224 x3.
###