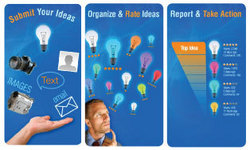 Naples, FL (PRWEB) April 1, 2009
Neighborhood America, an award-winning enterprise social software provider, announces REVEAL, its newest Business Service that enables organizations to invite their customers to not only share new ideas, but also help determine which ones are the best. By involving customers in these decisions, companies are more likely to create successful products and make better decisions, aligned with market demand.
REVEAL is ideally suited for corporate or government entities that seek new ideas for innovation, or a stronger ability to align resources with consumer input. Through an online community offering ratings and rankings, members are empowered to bring the best ideas to the top, so that decision-makers can focus on those ideas that show the most potential for success - eliminating the time-consuming task of filtering through volumes of suggestions to determine which are useful.
Rather than offering a one-size-fits-all community platform, Neighborhood America's Business Services are designed for enterprise customers who want to leverage social technologies to achieve a very specific business goal, which is typically tied to a financial return. REVEAL meets the growing market demand for the following value-related goals:

Improve competitiveness: develop products and services aligned with customer input.
Reduce product research costs: go beyond focus groups and speed time to market.
Reduce customer/employee churn: gain business intelligence that enables faster detection and resolution of concerns.
Increase loyalty, sales: leverage the strength of word-of-mouth marketing, peer-influenced purchasing decisions.
Improve efficiencies: enable employees to share ideas on reducing costs and improving processes.
REVEAL was chosen by Microsoft Public Sector to support its first Web 2.0 community, the Idea Bank (http://www.publicsectorondemand.com). This new community provides a forum for public sector professionals to collaborate, discover new solutions and share ideas for new development. The Idea Bank not only represents Microsoft Public Sector's first Web 2.0 community - it is also the first Social CRM online community that integrates Neighborhood America's enterprise social software with Microsoft Dynamics CRM.
Watch this two-minute video to see how REVEAL works.
About Neighborhood America
Neighborhood America's ELAvate solution won the 2008 CODiE Award for the software industry's 'Best Social Networking Solution' for enterprises, and was recently named a finalist in 2009. Our solutions are designed to solve important organizational challenges and enable our business and government customers to build stronger consumer relationships, increase efficiency, drive productivity and improve financial performance. Additionally, we support our customers with expert consulting services to ensure that they are maximizing the benefits from their social media strategy and our solutions. Learn more about our company by visiting: http://www.neighborhoodamerica.com.
###