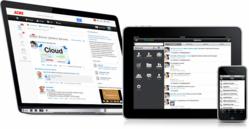 MangoApps is the new breed of cloud-based enterprise collaboration platforms that is making it dead simple for organizations of any size to share and collaborate
Bellevue, WA (PRWEB) October 23, 2012
Today, MangoApps launches its biggest and boldest release ever, further extending the capabilities of this enterprise-grade social collaboration network.
MangoApps 7 combines all the capabilities of a traditional intranet with advanced team collaboration and enterprise social networking in a single, unified platform. Moreover, the brand new freemium version of MangoApps comes fully loaded with the same great features and unlimited user access, offering teams all the benefits at no cost. Premium versions are also available, stocked with unique advanced admin controls, integrations, and the choice between private cloud and on-premise deployment options.
"Collaboration is more than just a buzzword, it represents the new way of work and MangoApps is among the new breed of cloud-based enterprise collaboration platforms that is making it dead simple for organizations of any size to share and collaborate in a truly meaningful fashion," said Jacob Morgan, principal of Chess Media Group and author of The Collaborative Organization.
The new version of MangoApps includes dozens of advanced features designed to help organizations of all sizes work smarter. Some of these capabilities include:
1. Social Intranets, Wikis, and Newsfeeds: Building on many of the same social paradigms embedded in popular Web 2.0 tools, MangoApps makes it easy for users to quickly share information with the rest of their team in a secured workspace through use of intranet pages, interactive wikis, and newsfeeds.
2. Office and Outlook Plug-ins: MangoApps now includes plug-ins for Microsoft Office, Outlook, and other major productivity applications, allowing individuals to stick with the tools they are already comfortable with, and enabling them to auto-sync and collaborate on documents in real-time.
3. Seamlessly Integrated Applications: Making all of the applications that individuals use on a daily basis seamlessly work together is fundamental to successful team collaboration. MangoApps provides cross-functional integration between all the key productivity applications organizations rely on, including connectors to most popular CRM apps such as Salesforce, Siebel CRM, and Sugar CRM, as well as enterprise systems like Microsoft SharePoint, and all of the major cloud-based file-sharing services like Box, DropBox, and Google Drive.
To meet the flexibility and security requirements of organizations, MangoApps is available in all three major deployment models.
Multi-Tenant SaaS (Fully Managed): Hosted in a multi-tenant environment in our U.S. Tier 1, SAS70 Type II certified facility.
Single-Tenant Private Cloud (Fully Managed): Hosted in a single-tenant environment in our U.S., Europe, South America or Asia based Tier 1, SAS70 Type II certified facility, providing additional security, integration, and customization options.
On Premise: Setup MangoApps on-site for total control of your collaborative efforts and seamless integration into other business systems.
"If you have ever considered implementing better communication and collaboration tools but couldn't justify the time or financial commitment involved, now there is no excuse," said Anup Kejriwal, Founder and CEO of MangoApps. "This new version of MangoApps is the culmination of six major releases over the course of the past four years and incorporates everything a team could ask for in a collaboration platform."
To watch a brief video overview of MangoApps, visit http://www.mangoapps.com
About MangoApps
Founded in 2007 in Bellevue, Washington, MangoApps is a privately held company that transforms the way teams work together. The MangoApps suite of integrated business applications enables teams to improve productivity and execute their business strategies more effectively. MangoApps has already been adopted by more than 5,000 businesses and departments within enterprises in a wide range of industries, including technology, media, finance, health, education, non-profit and government.
MangoApps was selected by Gartner Research as a 2012 Cool Vendor for Social Software and Collaboration, and ranked #163 on the Inc500 2012 List of Fastest Growing Private Companies in America. For more information please visit htp://http://www.mangoapps.com
Media Contact:
Patrick Allman
MangoApps, VP Marketing & Worldwide Sales
patricka(at)mangoapps(dot)com