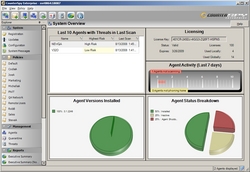 CounterSpy Enterprise is designed for companies who need a layered security profile, running alongside their existing antivirus product
Clearwater, FL (PRWEB) August 19, 2008
Sunbelt Software, a leading provider of Windows security and management software, today announced the release of CounterSpy Enterprise™ Version 3.1. Utilizing next-generation technology, the new version delivers comprehensive spyware and malware protection with the same high performance and low system resources as Sunbelt's recently released VIPRE™ Enterprise product.
Sunbelt introduces CounterSpy Enterprise as a pure-play antispyware solution that includes the major functionality of VIPRE Enterprise, without features specific to antivirus detection and remediation. CounterSpy Enterprise's next-generation technology provides powerful spyware protection against today's highly complex malware threats, without the performance and resource headaches of many traditional enterprise antispyware software.
"CounterSpy Enterprise is designed for companies who need a layered security profile, running alongside their existing antivirus product," said Alex Eckelberry, CEO of Sunbelt Software. "Enterprise administrators also can upgrade at anytime for a nominal charge to Sunbelt's total antivirus + antispyware solution, VIPRE Enterprise."
Proprietary antispyware agent uses all-new technology
At CounterSpy Enterprise's core is an antispyware agent that merges the detection of all types of malware into a single, efficient, and powerful system. CounterSpy Enterprise uses multiple techniques to inspect the characteristics of all types of potentially threatening files. From simple signature-based detection to dynamic, sophisticated analysis of malware files, CounterSpy Enterprise quickly determines whether a file is good or bad -- enabling comprehensive detection of both existing and new unidentified threats.
In addition to detection of potentially malicious programs, CounterSpy Enterprise will also flag a number of other potentially unwanted programs, including remote control and packet capture tools that may reside on end-user desktops. These types of programs may, in the wrong hands, present a security issue, and Counterspy Enterprise will bring them to the system administrator's attention, allowing the administrator to allow or remove these potential threats.
Advanced anti-rootkit technology
CounterSpy Enterprise's anti-rootkit technology finds and disables malicious hidden processes, threats, modules, services, files, Alternate Data Streams (ADS), or registry keys on a user's system. Removing rootkits is supplemented by FirstScan™, which runs at the system's boot time. FirstScan bypasses the Windows operating system, to directly scan certain locations of the hard drive for malware, removing infections where found.
Real-time monitoring with Active Protection™
CounterSpy Enterprise's Active Protection delivers real-time monitoring and protection against known and unknown malware threats. Active Protection works inside the Windows kernel (the core of the operating system), watching for malware and stopping it before it has a chance to execute on a user's system. Active Protection incorporates signature detection, heuristics, and behavioral detection.
Configurable management dashboards and easy deployment
With CounterSpy Enterprise, administrators can easily create a customized "malware command center" that gives instant access to their most used reports and policy controls. The management console provides four customizable dashboards for at-a-glance views of scanning and remediation activities that show overall network health and performance. A library of interface widgets allows drag and drop customization of reports, agent status information, severity threat levels by policy, scanning history, and other components displayed by the CounterSpy Enterprise dashboards. With easy access to information, the dashboards enable administrators to optimize the performance and operations of their network.
Enabled at the policy level, automatic deployment of agents to the network allows administrators to specify any combination of machine lists, IP addresses, IP ranges, IP subnets, and Active Directory Organizational Units (OUs) to be resolved and deployed to without admin interaction. The traditional methods of deployment such as console push and MSI packages are also included.
Pricing and availability
CounterSpy Enterprise is priced aggressively for all corporate environments and includes one year of support, updates, and product upgrades. The upgrade to CounterSpy Enterprise is available to all existing customers of CounterSpy Enterprise who are currently under a maintenance plan. New customers can purchase CounterSpy Enterprise on a per machine basis. Pricing includes the first year maintenance and starts at $155.00 for 5 machines with a sliding scale discount based on number of machines. A 30-day trial version of CounterSpy Enterprise is available on Sunbelt Software's website at http://www.sunbeltsoftware.com.
About Sunbelt Software
Headquartered in Tampa Bay (Clearwater), Fla., Sunbelt Software was founded in 1994 and is a leading provider of Windows security and management software with product solutions in the areas of antispam and antivirus, antispyware, and vulnerability assessment. Leading products include the CounterSpy and VIPRE product lines, Ninja Email Security, Sunbelt Exchange Archiver, and endpoint firewall technologies. The company is part of Sunbelt International Group, based in Paris, France.
For more information about Sunbelt Software, please visit the company's website at: http://www.sunbeltsoftware.com. To learn more about current activities, products, and ideas at Sunbelt Software, please visit Sunbelt's corporate blog at http://www.sunbeltblog.com.
Copyright © 2008 Sunbelt Software. All rights reserved. All trademarks used are owned by their respective companies.
###