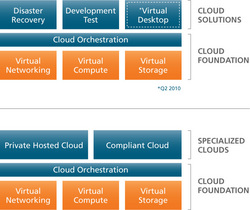 Delivering robust public and private cloud solutions for production-ready applications has been our focus from day one
Reston, VA (Vocus) February 24, 2010
Carpathia Hosting, the leading provider of enterprise managed hosting services for government agencies and businesses, today announced it has teamed up with Citrix® Systems, Inc. to launch the second generation of its enterprise cloud offering, Carpathia InstantOn™. Powered by Citrix® XenServer™, InstantOn is the first cloud solution truly aimed at meeting the needs of enterprise computing for public clouds and private virtual datacenters, while delivering cloud solutions that are managed, flexible and scalable.
Carpathia InstantOn is easily-accessed and managed through Carpathia's web-based E3 Portal™ and is powered by XenServer, the only enterprise-class, cloud-proven server virtualization platform. Enterprises using Carpathia InstantOn can easily deploy custom compute and storage solutions, blending dedicated and cloud resources in a single solution. Solutions are available in either multi-tenant or private clouds to meet the most stringent security and compliance requirements including government standard like FISMA and DIACAP, financial standards like PCI and healthcare standards like HIPAA.
"Delivering robust public and private cloud solutions for production-ready applications has been our focus from day one," said Jon Greaves, CTO, Carpathia Hosting. "With the announcement of our second generation cloud service built on Citrix XenServer, we are giving our customers additional flexibility, scale and management that further allows them to take advantage of both our enterprise cloud services as well as our traditional managed hosting services."
Built to meet the needs of small, mid-size and large organizations with production-ready applications, the following cloud services are available with Carpathia InstantOn:

Virtual networking. Networking solutions to support virtual compute and storage allowing InstantOn to be deployed in enterprise configurations taking advantage of solutions like Citrix® Netscaler® VPX™.
Virtual Compute. On-demand computing services for both simple virtual machines and complex topologies including connections to existing dedicated infrastructure in a secure manner.
Virtual Storage. Object and block storage solutions designed to support enterprise compute requirements. Storage can be shared between multiple virtual machines and dedicated servers with multiple copies of each object.
Private Cloud or Private Virtual Datacenters. Virtual Compute and Storage solutions deployed in a private or reserved deployment. Combines the advantages of cloud technology such as dynamic scaling and instant provisioning while being fully managed.
Compliant Cloud. Designed to meet government IT standards including FISMA and DIACAP. Enhancements include RSA authentication, SSL VPN for management access and inter/intra virtual machine firewalling.
Virtual Disaster Recovery. Replicated data ensures you have a current offsite copy of mission critical information at a fraction of the cost of traditional disaster recovery solutions. Pay for cloud resources on-demand during DR testing and DR events.
Virtual Development & Test. Virtual Compute, Storage and Networking solutions designed specifically for test labs for easy deployment and promotion into production at a dramatically lower price-point than deploying dedicated development and test lab environments.
Enterprises using Carpathia InstantOn can also easily deploy custom compute and storage solutions, blending dedicated and cloud resources in a single solution. InstantOn can be used in conjunction with Carpathia AlwaysOn™, a traditional managed dedicated hosting solution, to deliver the ultimate in flexibility. Underlying all Carpathia InstantOn solutions is Carpathia Cloud Orchestration™. Cloud Orchestration allows cloud and managed dedicated resources to scale seamlessly in a single solution allowing customers to select which applications and services fit best in the cloud and which should reside on dedicated infrastructure.
"We have been impressed with how Carpathia Hosting has approached building enterprise cloud solutions for public and private clouds, especially when it comes to access and payment models tailored for enterprises deploying production-ready applications," said Simon Crosby, CTO, Datacenter and Cloud Division at Citrix Systems. "The combination of Citrix Cloud Center (Citrix C3) and Carpathia's unique Cloud Orchestration model has resulted in an enterprise cloud solution that is truly industry-leading."
In addition to Carpathia InstantOn, the companies plan to team up on additional cloud offerings including virtual desktop as a service. Carpathia Hosting and Citrix will host a live webcast on March 16 at 1:00pm EST to discuss private and public clouds for the enterprise as well as Carpathia Hosting's second-generation InstantOn cloud service. For more information and to register for the webcast, visit http://www.carpathiahosting.com/enterprisecloud.
About Carpathia Hosting, Inc.
Carpathia Hosting is a leading provider of managed hosting services, providing secure, reliable and compliant IT infrastructure and management for some of the world's most demanding enterprises and federal agencies. Founded in 2003, Carpathia Hosting is a growing, profitable business run by a seasoned management team with deep experience in delivering enterprise hosting solutions including colocation, managed services and cloud computing. Carpathia's suite of services is designed for organizations seeking scalable, secure, robust and enterprise-grade hosting solutions that can be quickly provisioned or tailored to meet unique requirements. Backed by its E3 Promise, Carpathia Hosting consistently delivers an experience that exceeds customers' expectations. Contact Carpathia Hosting at 1.888.200.9494, or visit http://www.carpathiahosting.com for more information.
Citrix®, NetScaler®, VPX™ Citrix Cloud Center™ and XenServer™ are trademarks of Citrix Systems, Inc. and/or one or more of its subsidiaries, and may be registered in the U.S. Patent and Trademark Office and in other countries. All other trademarks and registered trademarks are property of their respective owners.
###