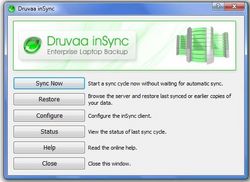 Sunnyvale, Calif. (PRWEB) February 26, 2009
Druvaa is one of the fastest growing company in enterprise storage and backup domain. The flagship product Druvaa inSync is fully automated laptop backup software which protects corporate data for office and remote users. It features simple backup, point-in-time restores, and patent-pending deduplication technology to make backups much faster.
The new beta includes the following features -
1. Full PC Backup (with data deduplication)
2. Bare Metal Restore
3. Search functionality in restore
4. Performance improvements for large files (e.g. Outlook PST)
5. Usability Improvements
Find our more about beta and download a free copy from - http://www.druvaa.com/insync/beta
Over 80% of corporate data is duplicated across users. Druvaa inSync uses data deduplication to save "only a single copy" of content (emails/docs) duplicated across users. This delivers 10X faster backup with 90% reduction in bandwidth and storage.
The product uses Continuous Data Protection to create near-infinite restore points. On restore the user sees a timeline view of data and can restore from any point in the past.
Key Product highlights includes -
1. Data Deduplication - Saves 90% backup time, bandwidth and storage.
2. Continuous Data Protection - Timeline based, from the past restore
3. Backup for Remote Users - WAN Optimization for faster backups for remote users over WAN/VPN
4. Security - 256 bit SSL and 256 bit AES encryption
5. On-demand Restore - GUI and browser based restores from any point in the past
6. Advanced Reporting - Six different reporting options for flexible and detailed reporting
Product Page - http://www.druvaa.com/insync/laptop-backup
About Druvaa
Founded in 2007, Druvaa Software is a leading provider of Continuous Data Protection and Disaster Recovery solutions. Since inception Druvaa has released two award wining products products - Druvaa inSync and Druvaa Phoenix. Druvaa is privately held and backed by Indian Angel Network (IAN) and Accord International (HK).
Corporate Website - http://www.druvaa.com/
###