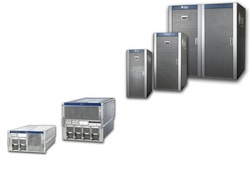 The new SPARC Enterprise systems up the ante on performance and deliver the flexibility to address the most demanding enterprise workloads
TOKYO & SANTA CLARA, Calif. (PRWEB) July 14, 2008
"The new SPARC Enterprise systems up the ante on performance and deliver the flexibility to address the most demanding enterprise workloads," said John Fowler, executive vice president, Systems Group, Sun Microsystems. "Today, we're freeing customers from the constraints of the mainframe with open systems that deliver the scalability, consolidation and virtualization they want along with long-term investment protection features that can future-proof their datacenters."
"The SPARC Enterprise servers advanced to a new stage with the SPARC64 VII processor, which provides spectacular performance, reliability and eco-efficiency and benefits from Fujitsu's unparalleled mainframe heritage," said Tatsuo Tomita, corporate senior executive vice president and a board member at Fujitsu. "We are confident that the SPARC64 VII processor which powers the world's most scalable and flexible systems, not only protects but also increases the value of our customer's investments."
New Servers Provide Massive Scalability and Virtualization with Investment Protection
The SPARC Enterprise servers announced today build on the existing systems co-designed by Sun and Fujitsu and extend long-term customer investment protection through binary compatibility, industry leading hardware and software partitioning and the ultra-flexible "mix and match" SPARC64 processor architecture. These SPARC Enterprise servers are the only systems on the market with the ability to mix SPARC64 VI and VII processors in a single domain, enabling customers to increase performance – without downtime and without requiring other hardware changes. Customers can also minimize upgrade costs by using the new SPARC64 VII option in current SPARC Enterprise servers.
With the addition of the new quad-core SPARC64 VII processor, the SPARC Enterprise servers also offer unmatched scalability in a single symmetric multi-processor system (SMP) system – from 16 to 256 cores. The SPARC64 VII processor also delivers the RAS functions of SPARC64 VI, including hardware instruction retry, dynamic degradation and parity-protected processor registers, to maintain the levels of performance and reliability needed in mission-critical systems.
The new processor consumes 44 percent less energy per core than the SPARC64 VI chip, enabling customers to consolidate and minimize energy consumption. Leveraging built-in hardware partitioning features and Solaris Containers, the new SPARC Enterprise servers form an ultra-high density environment that provides exceptional virtualization capabilities. As a result, customers can increase system utilization by supporting larger application workloads and services on their existing infrastructure, while controlling operating costs and reducing environmental impact.
More information on the SPARC Enterprise server line is available at http://sun.com/sparcenterprise and http://www.fujitsu.com/sparcenterprise/.
SPARC Enterprise Systems Best The Competition
The SPARC Enterprise M9000 server running Solaris 10 OS, the SAP(R) ERP application Release 6.0 and Oracle Database 10g achieved a world record result on the SAP Sales and Distribution (SD) Standard Application Benchmark by achieving 39,100 SD Benchmark users. The SPARC Enterprise M9000 server result beats the IBM Power 595 POWER6 server with 35,400 SD Benchmark users by 10.5% and outperforms the HP Integrity Superdome SD64B with 30,000 SD Benchmark users by 30.3%, as well as demonstrates the ability to run both the application and database software in the highly scalable and reliable way.[1] The SPARC Enterprise M9000 server, based on SPARC64 VII processors, and using Sun Studio 12 software with Solaris 10 OS delivers a score of 2.023 TFLOPS on the Linpack's Highly Parallel Computing benchmark. The SPARC Enterprise M9000 outperforms the IBM Power 595 POWER6 by nearly 2X and beats the HP Integrity Superdome system by 2.7X.[2] For additional information on Sun and Fujitsu's leading benchmarks please visit:
http://www.sun.com/servers/sparcenterprise/benchmarks/index.html and http://www.fujitsu.com/global/services/computing/server/sparcenterpris e/key-reports/benchmarks/.
Customers Tout the SPARC Enterprise Servers
SPARC Enterprise customers span the globe and industries including HPC, financial services, retail and Web 2.0. Customers include: China Mobile Communications Corporation, CIMB Group, Core Services, HPCVL, Qualcomm, SuccessFactors and Weight Watchers International.
Product Availability and Services
The new SPARC Enterprise systems are available immediately directly from Sun and Fujitsu and their authorized resellers. Continuing to provide investment protection for customers, the SPARC64 VII processors will also be available as upgrades for existing systems. For more information visit: http://www.sun.com/tradeins/offerings/sse/index.jsp and http://www.fujitsu.com/sparcenterprise.
Sun and Fujitsu also provide a full suite of services to help customers maximize their infrastructure investments. More information is available at http://www.sun.com/service and http://www.fujitsu.com/.
Both Fujitsu-branded and Sun-branded SPARC Enterprise servers will be marketed worldwide. All features are identical.
About Fujitsu
Fujitsu is a leading provider of IT-based business solutions for the global marketplace. With approximately 160,000 employees supporting customers in 70 countries, Fujitsu combines a worldwide corps of systems and services experts with highly reliable computing and communications products and advanced microelectronics to deliver added value to customers. Headquartered in Tokyo, Fujitsu Limited (TSE:6702) reported consolidated revenues of 5.3 trillion yen (US$53 billion) for the fiscal year ended March 31, 2008. For more information, please see: http://www.fujitsu.com.
About Sun Microsystems, Inc.
Sun Microsystems develops the technologies that power the global marketplace. Guided by a singular vision -- "The Network is the Computer" -- Sun drives network participation through shared innovation, community development and open source leadership. Sun can be found in more than 100 countries and on the Web at http://sun.com.
Sun, Sun Microsystems, the Sun logo, Solaris and the Network is the Computer are trademarks or registered trademarks of Sun Microsystems, Inc. or its subsidiaries in the United States and in other countries. All SPARC trademarks are used under license and are trademarks of SPARC international, Inc. in the US and other countries. SPARC64 is a trademark of SPARC International, Inc. in the United States and other countries and used under license. Products bearing SPARC trademarks are based upon an architecture developed by Sun Microsystems, Inc.
Fujitsu and the Fujitsu logo are registered trademarks or trademarks of Fujitsu Limited in the United States and other countries.
SAP and all SAP logos are trademarks or registered trademarks of SAP AG in Germany and in several other countries.
All other product and service names mentioned are the trademarks of their respective companies.
        (1) SAP, R/3, mySAP reg TM of SAP AG in Germany and other countries. More info http://www.sap.com/benchmark. Two-tier SAP Sales and Distribution (SD) standard SAP ERP 2005 application benchmark: SPARC Enterprise M9000, 64 proc. / 256 cores / 512 threads, SPARC64 VII 2.52 GHz running Solaris 10, Oracle 10g and the SAP ERP application Release 6.0 (2005) - 39,100 SAP SD Benchmark users, 196,564 SAPS. The certification number was not available at press time and can be found at the following web page: http://www.sap.com/benchmark.
IBM System p5 595, 32 proc. / 64 cores / 128 threads, POWER6 5 GHz running AIX Version 6.1, DB2 9.5 and the SAP ERP m application Release 6.0 - 35,400 SAP SD Benchmark users, 117,950 SAPS.Certification number 2008019. HP Integrity SD64B , 64 proc. / 128 cores / 256 threads, Dual-Core Intel Itanium 2 9050 1.6 Ghz running HP-UX 11iV3 and the SAP ERP application Release 6.0 - 30,000 SAP SD benchmark users, 152,530 SAPS. Certification number 2006089.
  (2) Linpack HPC, results from http://www.netlib.org/benchmark/index.html as of 06/25/08.
Long URLs in this release may need to be copied/pasted into your Internet browser's address field. Remove the extra space if one exists.
MULTIMEDIA GALLERY http://www.businesswire.com/cgi-bin/mmg.cgi?eid=5729866