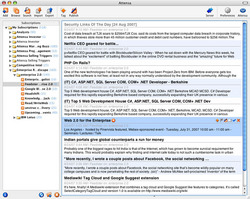 Portland, OR (PRWEB) August 28, 2007
Attensa, Inc., the leading developer of RSS software for Enterprise 2.0 introduced new enterprise-quality RSS feed readers for Windows, Mac and Microsoft Outlook today. The three new Attensa feed readers are built using consistent AttentionStream™ technologies, architecture and user experience to provide business users with a complete set of tools for receiving, managing and reading critical business information delivered through RSS, Atom and XML web feeds.
Attensa's enterprise RSS feed readers for Windows, Mac and Microsoft Outlook can be downloaded at no charge immediately from the Attensa Web site http://www.attensa.com.
The new Attensa feed readers are designed specifically for enterprise RSS use. Feature sets and functionality were developed using in-depth feedback from IT professionals and corporate information workers in organizations where tens of thousands of knowledge workers are using Attensa feed readers today.
Choice of "River of News" views including AttentionStream view that automatically pulls articles that are most important to the forefront of the user's attention.
Attensa's unique AttentionStream Learning Engine observes and learns from the user's feed and article reading behaviors and works on the principle that past and present actions predict future behavior. Deep analytics of article content are matched to a personalization system that automatically prioritizes and recommends new articles that will be of interest to the reader.
This ongoing analysis of AttentionStream data includes the time and frequency that feeds are accessed, and analyzes which articles are read, deleted and ignored. Attensa displays feeds in a prioritized list based on the likelihood that they will be of interest to the reader. Priorities are constantly refined as the continuous stream of user attention is processed. Enterprise RSS users can choose how they want subscriptions and articles presented. Subscriptions can be displayed in a "River of News" view that simulates a single news feed, regardless of how many RSS feeds the user has subscribed to.
Consistent architecture provides fast feed and article loading and streamlined synchronization with the Attensa Feed Server.
The new Attensa feed readers use a consistent architecture to insure quick access to feeds and articles and accurate and reliable synchronization with the Attensa Feed Server. The Attensa Feed Server channels feeds to users and groups behind the firewall and makes it easy to create a secure, managed, scalable enterprise RSS feed environment. Attensa's unique AttentionStream™ synchronization ties the server, desktop, web, instant messaging and mobile RSS reader clients together so articles read, filed and deleted are continuously up to date.
Consistent user experience and updated interface makes managing and reading feeds easy while simplifying training
Safe and Secure Subscriptions to Internal and External RSS feeds
As more businesses are looking at enterprise RSS platforms as communication vehicles that can handle sensitive financial, development and supply chain information, the need for a safe secure transmission of information is paramount. Attensa feed readers handle secure feeds with authentication credentials to insure critical information is only being read by the people authorized to receive it. Feeds can be filtered to strip out potentially malicious attachments and scripting.
One-click blog republishing and easy editing
The publishing toolbar can be linked to Microsoft LiveWriter, a desktop WYSIWYG authoring application that makes is easy to write, edit and add photos and other rich content to blog posts. Articles can be easily edited republished to internal or external blogs including Blogger, LiveJournal, TypePad, Windows Live Spaces,and WordPress. Writer supports RSD (Really Simple Discoverability), the Metaweblog API, and the Movable Type API.
Other Attensa enterprise RSS feed reading productivity features include:
Powerful automated persistent search tools search across 18 Web and blog search engines and continuously deliver relevant information as soon as it is published.
Automatically find, preview and add RSS feeds from toolbars in Internet Explorer and Firefox
Create, import and export custom reading lists (OPML files)
Keep RSS feeds and articles organized with tagging and categories. Attensa tags can now be imported and exported.
Secure connectivity to internal and external enterprise 2.0 Web feeds and AttentionStream reporting with the Attensa Feed Server
Easily play audio and video content directly in the River of News
Built-in Pod Catcher automatically downloads podcasts, audio and video attachments and puts them in a clearly labeled playlists in Windows Media Player or iTunes.
Desktop Alert toaster allows users to track fast breaking business information
Security enhancements - users can now disable scripting within feed articles.
Pricing and Availability - Attensa enterprise RSS feed readers for Windows, Mac and Microsoft Outlook can be downloaded at no charge immediately from the Attensa Web site http://www.attensa.com.
About Attensa
Attensa, Inc. is a venture backed software company developing enterprise RSS software that gets the right information, to the right people at the right time.
For more information and to keep informed about new product introductions, please visit the company's Web site - http://www.attensa.com and at our blog - http://www.attensa.com/blogs/attensa.
©2007 Attensa, Inc. All Rights Reserved. Attensa, the Attensa logo and AttentionStream are trademarks of Attensa, Inc. Microsoft Outlook is a registered trademark of Microsoft Corporation in the United States and/or other countries. All other trademarks are used for identification purposes only and are the rights of their exclusive holders.
###