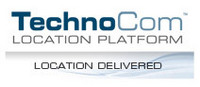 Accurate incident locations will save fuel and improve efficiencies for our customers. With increased fuel cost today, this is more important than ever before.
Encino, CA (PRWEB) December 6, 2010
TechnoCom Corporation™, a leading provider of enterprise location services, has been selected by Beacon Software Company, a trusted developer of next generation dispatch and management software and systems. Beacon plans to enhance their Dispatch Anywhere™ offering, which is deployed by towing, dispatch and repo companies of all sizes, with automated caller location and status alert ETAs delivered via TechnoCom Location Platform™. TechnoCom's enterprise platform enables real-time location of virtually any phone type, mobile and landline, delivering high value to customers through reduced call times, more reliable dispatching and better service to their callers.
In some caller assistance situations, callers do not know the actual location of their breakdown. With instant identification of caller location, Beacon's customers can quickly obtain on demand privacy consent and dispatch the appropriate service provider to the stranded motorist. Integration with TechnoCom Location Platform enables reduced call times, quicker time to service fulfillment, improved operations and increased customer loyalty. The enterprise platform has extensive reach to over 300 million devices and delivers mobile and landline location, messaging and privacy controls through a unified web services interface.
"Knowledge of caller location is integral to providing exceptional customer service and we are pleased that Beacon Software has chosen TechnoCom to provide this core service," said Mario Proietti, CTO and Founder of TechnoCom.
"Accurate incident locations will save fuel and improve efficiencies for our customers," said Todd Althouse, President of Beacon Software. "With increased fuel cost today, this is more important than ever before."
About TechnoCom
TechnoCom Corporation is a leading provider of products and services to enable wireless location solutions for enterprises, wireless carriers, and service providers. TechnoCom helps its customers efficiently implement, optimize and manage location solutions for E911 and commercial location-based services. TechnoCom Location Platform is a turn-key, enterprise location-based services platform that delivers operational efficiencies, cost savings and ubiquitous device access to location and messaging. The company's flagship Location eXchange Server™ and LocationAssurance Manager® platforms allow efficient implementation of wireless location solutions and continuous, automated oversight into location system performance.
Founded in 1995 and privately held, TechnoCom has been selected by Deloitte as one of the 50 fastest growing technology companies in Los Angeles for four consecutive years. TechnoCom's customers include AT&T, Bell Mobility, Cricket, Cross Country Automotive Services, Openwave, Sprint Nextel, TELUS, T-Mobile, and Verizon Wireless. For more information about TechnoCom, please visit http://www.technocom-wireless.com.
About Beacon Software Company
Beacon Software was founded in 2001 to supply the most comprehensive towing management solutions available. Since releasing its premier tow management solution DispatchAnywhere™ in 2003, Beacon Software now services over 15,000 towers in 30 countries with a multitude of products - including the industry's leading vehicle towing instruction website http://www.towspec.com. Beacon pioneered paperless digital dispatching with TowMagic™ (http://www.towmagic.com) and has since routed nearly 3 million motor club calls. Beacon's products have helped thousands of service providers save money by becoming more efficient.
# # #