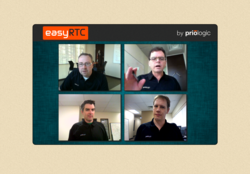 Priologic first mover in Enterprise Management for WebRTC in Q1 2013. In Q2 we'll introduce a Cluster Controller for automated failover and servicing customers on other continents
Victoria, BC (PRWEB) January 24, 2013
"Priologic is bringing Enterprise Management to WebRTC. easyRTC Enterprise will be showcased at ITEXPO Miami January 29 – February 1," says CEO Doug Pelton.
"We're really excited about the uptake of our easyRTC open source bundle that we released in December. Since we won the Best WebRTC Tool at the WebRTC Conference and Expo in November we have had hundreds of downloads from 66 countries on every continent. With hundreds of servers running we are seeing very few issues. However, when you do need to scale to thousands of concurrent sessions a different level of rigor and support is required," claims Miles Vasey, Managing Director at Priologic.
"easyRTC Enterprise integrates with existing corporate databases, security and authentication and web servers. Real-time monitoring of the signaling server and logging service management let application administrators or developers peer into the current state of easyRTC Enterprise to investigate issues with their enterprise WebRTC applications," says Pelton.
"By the end of Q2, we plan to release easyRTC Enterprise servers with a cluster manager so easyRTC servers can failover automatically if hardware fails, or to provide redundant servers closer to customers on other continents," says Pelton.
Priologic Software is based in Victoria, BC Canada and is a leader in WebRTC open source and enterprise products and services, and enterprise collaboration. Priologic has provided senior Dedicated Enterprise Software teams to Fortune 100 companies since 2003.