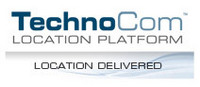 Encino, CA (PRWEB) October 7, 2010
TechnoCom's Founder and Chief Technical Officer, Mario Proietti to speak at CTIA Enterprise and Applications 2010 Conference on Thursday October 7, 2010 in San Francisco, CA. The session will focus on wireless technologies for enterprises, optimizing workplace assets through mobile resource management (MRM). TechnoCom Location Platform™ enables low-cost, easy-to-deploy MRM services for any mobile workforce with no handset application or embedded equipment required. Enterprises who traditionally could not afford to deploy MRM can now benefit from better visibility into worker activity, improved operations and greater compliance at a fraction of the cost.
TechnoCom's MRM solution overcomes the challenges of managing a mobile workforce in the face of increasing consumerization of enterprise IT resources.
TechnoCom's MRM service empowers enterprises with:

Extensive reach – no smartphone or handset application is required
Dynamic communication with field resources
Increased productivity – higher dispatch throughput per worker
Significant reduction in costs – low monthly fees, no vehicle hardware or installation, no application to download and no ongoing maintenance.
Ease of deployment – same day service sign-up
Key take-aways for this session will include a new low-cost approach for improving business operations across the growing heterogeneous mobile workforce and the benefits of employing an application-free location-enabled messaging platform for mobile resource management.
TechnoCom Corporation™ is a leading provider of products and services to enable wireless location solutions for enterprises, wireless carriers, and service providers. TechnoCom helps its customers efficiently implement, optimize and manage location solutions for E911 and commercial location-based services. TechnoCom Location Platform™ is a turn-key, enterprise location-based services platform that delivers operational efficiencies, cost savings and ubiquitous device access to location and messaging. TechnoCom's mobile resource management (MRM) solution enables enterprises to optimize their workforce and business utilizing an application-free universal location and messaging platform. The company's flagship Location eXchange Server™ and LocationAssurance Manager® platforms allow efficient implementation of wireless location solutions and continuous, automated oversight into location system performance.
Founded in 1995 and privately held, TechnoCom has been selected by Deloitte as one of the 50 fastest growing technology companies in Los Angeles for four consecutive years. TechnoCom's customers include AT&T, Bell Mobility, Cricket, Cross Country Automotive Services, Openwave, Sprint Nextel, TELUS, T-Mobile, and Verizon Wireless. For more information about TechnoCom, please visit http://www.technocom-wireless.com.
LocationAssurance Manager is a registered trademark and the TechnoCom logo, TechnoCom Corporation, Location eXchange Server and TechnoCom Location Platform are trademarks of TechnoCom Corporation. All other trademarks are the property of their respective owners.
# # #