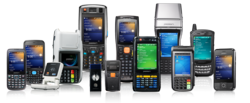 Pidion products from Yellowfin offer the best combination of performance, ruggedness, and price in the industry.
Ellington, CT (PRWEB) May 01, 2012
Yellowfin Distribution announced today that they have been selected as the sole US distributor of Bluebird Inc.'s Pidion line of mobile handheld computers. Led by its flagship product, the BIP-6000, the Pidion line up provides an excellent balance of performance, ruggedness, and functionality with a very competitive pricing & support structure. Yellowfin will also provide all service and maintenance for the line at their state-of-the-art facility in Connecticut and will be authorizing selected resellers to do their own break/fix repairs.
"We are extremely pleased by Bluebird's decision to trust the distribution of their Pidion brand to Yellowfin for the US region" said John Gibson, VP of Sales for Yellowfin, "We see their product filling a huge niche that the larger players in this industry have left untouched and we are excited with the opportunity to distribute a globally recognized leader in handheld computing."
According to Wayne Park, North American Regional Director for Bluebird, Inc., "Yellowfin's deep knowledge of the industry combined with their ability to provide world class service were among the deciding factors in our choice for a US distributor. Our products are highly differentiated with built-in RFID readers and mobile POS devices with integrated printers, so finding a flexible and proven distribution partner like Yellowfin is crucial to our growth."
About Bluebird
Bluebird is a global manufacturer of handheld mobile devices that is uniquely positioned to serve customers in both AIDC (Automatic Identification and Data Collection) and payment solutions. From a shop around the corner to the Fortune 500 companies, and from a police officer on the street to a secure government agency, Bluebird is rapidly becoming the first choice of organizations seeking innovative high-performance solutions to their business challenges.
About Yellowfin
Yellowfin is a new company with its headquarters in Ellington, CT. Founded by mobility experts, each with more than 25 years of industry experience; Yellowfin wants to help mobility resellers enjoy higher product margins while providing them with the rugged, high performance, and innovative solutions their customers demand. With an augment and complement service strategy, Yellowfin can also help resellers fill out their own service and solutions portfolios making them more competitive in the market and more valuable to their customers.